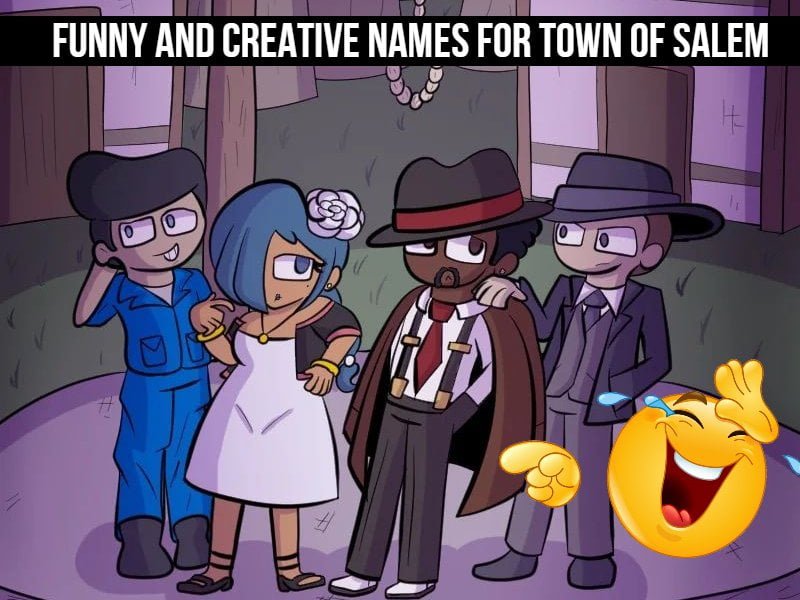 Town of Salem is a popular social deduction game where players assume roles of townsfolk, mafia, werewolves, cultists, and more. In this game, it is important for players to come up with funny and creative names to add a bit of personality to their characters.
If you're looking for an extra bit of fun, then why not try giving your character a silly or humorous name? Here you will find some of the funniest, most creative, and most outrageous names for the Town of Salem that you, your friends, and your enemies can have all the laughs with. From silly puns to clever wordplays and even references to pop culture, there's something here for everyone. So gather your detective hats and let's get to work!
80+ Funny and Creative Names for Town of Salem
1. Quirky Queen: 
This funny character name could be used for a player who loves to show off their unique style.
2. Cunning Crone: 
Perfectly suited for a player who loves to scheme and plot.
3. Wild Witch:
 A great name for a Salem game player who likes to take things to the extreme.
4. Mystic Maven:
 A perfect moniker for a player who loves to delve deep into magical secrets and mysteries.
5. Bewitching Bae:
 This refers to a Salem game player who knows just how to charm their way into any situation.
6. Antisocial Addict: 
For a player who prefers being around no one but the game.
7. Sinister Sorcerer: 
This name describes a Salem game player who likes playing pranks and engaging in a bit of mischief.
8. Lighthearted Lassie: 
Refers to a player who has a lighthearted approach to the game and doesn't seem to take anything too seriously.
9. Witch or Bust: 
This funny name is used for a Salem game player who is determined to uncover the secrets of the Witching Hour.
10. Spellcaster Pro: 
This name is used for a Salem game player who has perfected their magical craft and has become an expert at casting spells.
11. The Gambler: 
Describes the player who loves taking risks, and trusting luck to bring victory.
12. Unpredictable-Ulysses: 
Ideas and strategies come in a flurry, often resulting in unexpected outcomes.
13. Survivor-Sam:
A player who stays alive through thick and thin, no matter what the odds.
14. Jury-Julia:
For the fair-minded players who always weigh the evidence carefully before making a decision.
15. The Pragmatist:
A strategy-first thinker who always utilizes logic and mental acuity to win.
16. Smithy-Sue:
Refers to a player who uses tools and weapons to make their mark on the game.
17. Big Bad-Bertie:
A bold, fearless player who isn't afraid of taking on the game's biggest challenges.
18. Sly-Samantha:
This nickname pays tribute to the crafty players who are always one step ahead with their strategies.
19. The Ninja:
The player with quick thinking and even faster reflexes.
20. The Willpower Warrior:
A player that exudes a natural aura of strength; never backing away from a fight.
Untouchable
Master of Deception
Investigating Ivan
Blocking Brady
Daredevil Dan
Trickster Tanya
Witchcraft Warren
Cleverly Coco
Bustin' Brad
Rumor-Laden Rachel
Witch Buster
Hag Finder
Salem Demonologist
Curse Breaker
Witch Tamer
Mystic Seer
Spell Breaker
Magician
Conjurer
Hexer
Warlock of Salem
Witch Charmer
Salem Harbinger
Witch Choker
Gallows Master
Demonologist
Witch Wrecker
Spell Binder
Salem Witchfinder
Salem Witchhunter
Salem Witchfinder General
Salem Witchcatcher
Warlock Slayer
Conjuring Conjurer
Witchcraft Hunter
Witchcraft Witch
Salem Witch Doctor
Hex Master
Supernatural Detective
Salem Witch Slayer
Witching Hour
Shadow Chaser
Witch-Stalker
Salem Witch-Finder
Salem Witch-Buster
Salem Witch-Catcher
Witch-Hunting Expert
Demon-Finder
Witch-Hunter
Witch-Hater
Witch-Killer
Witch-Catching Wizard
Witch-Trapper
Witch-Tamer
Salem Witch-Seeker
Salem Witch-Spotter
Warlock-Buster
Salem Witchcraft Expert
Witch-Finder General
Salem Witch-Wrangler
Ruthless Renegade
Dastardly Deceiver
Dark Dealer
Ruthless Robber Baron
Infamous Imposter
Conclusion:
From witty puns to classic allusions, these names can help players bring out their creative side and make their Town of Salem gaming experience even more enjoyable. 
With the wide range of names available, players can easily find something that suits their personality and allows them to stand out from the crowd. Whether players are looking for something silly, serious, or simply unique, the list of names for Town of Salem game players is sure to provide plenty of options.