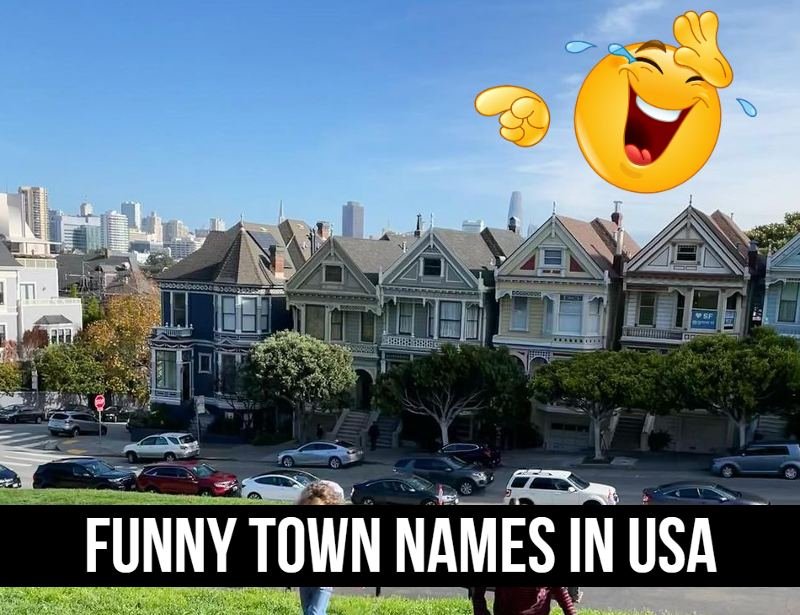 Have you ever been driving through a small town and come across a street sign with a hilariously absurd name? It can be hard not to laugh at the absurdity of some of these monikers.
It's easy to take for granted the names of the places we live and visit, but have you ever stopped to think about how these names came to be? Some of them are quite mundane, while others are outright hilarious.
In this blog post, we'll be exploring some of the funniest town names in the United States. From the ridiculous to the absurd, these places will have you laughing out loud. So sit back, relax, and get ready to be entertained by some of the most hilarious town names in America.
Funny Town Names in USA
1. Bacon, Georgia
Bacon, Georgia is a small town in the state of Georgia that was founded by a local family of farmers who sold pork products and bacon. The town has since earned its namesake as a result of its history and the family's contribution to the area. It's a great place to visit if you're looking to get a taste of Southern hospitality and great food.
2: Toad Suck, Arkansas
Toad Suck, Arkansas is a small town located along the Arkansas River. It is said that the town got its name after a group of riverboat men was seen "sucking on a jug" while waiting for the river to rise. Nowadays, the town is known for its friendly locals, relaxing atmosphere, and ample outdoor activities.
3. Monkey's Eyebrow, Kentucky
Tucked away in the rolling hills of Kentucky lies the charming town of Monkey's Eyebrow – a place where you can kick back and relax in nature's embrace. The story goes that the town got its peculiar name when an early settler noticed the landscape's resemblance to a monkey's eyebrow. 
4. Ding Dong, Texas
Ding Dong, Texas is a small unincorporated community located in the state of Texas. It is said that the town got its name from a stagecoach driver who used to call out "Ding Dong" as he approached the town. Today, the town is known for its quiet atmosphere and friendly locals.
5. Whynot, Mississippi
A hidden gem tucked away in the state of Mississippi. It's home to the curious and mysterious, who have wondered for years how the town got its name. Many believe it was named after an early explorer who, upon discovering the town's beauty, asked the question "Why not?" With its peaceful atmosphere and outdoor attractions.
6. Point of Rocks, Maryland
It is a small town on the banks of the Potomac River, and it was named after the rocky outcropping that sits on the opposite side of the river. Local lore says that during the Revolutionary War, a group of rebels used the rocks as a lookout point to keep an eye on the British.
7. Coward, South Carolina
Nestled in the Lowcountry of South Carolina, Coward is named after a local farmer who was known for his easily-frightened nature. The source of his terror? The wild hogs that roam the area, prompt him to run away each time he encountered them.
8. Frog Eye, Nevada
Frog Eye is a small town that locals say got its name from the nearby pond. Said to be full of frogs, their eyes would often peep out of the water, providing a unique and amusing sight. Though it may be a funny name, it is also a testament to the area's natural beauty.
9. Boring, Oregon
It is an unincorporated community in the Pacific Northwest that was named after the boring mills that were used to construct its roads and buildings. It's a funny name, but the town is anything but. It's known for its scenic beauty and wealth of outdoor activities.
10. Lickskillet, Alabama
This Alabama town has a unique name that's sure to make you giggle. Legend has it that the town was named for a local skillet that was used to make bacon, which the locals enjoyed licking off the skillet. The town may have a funny name, but its people take their history seriously, and it's a great place to visit and learn more about the area's past.
11. Embarrass, Minnesota
Embarrass is a small town in Minnesota that got its name from a French explorer who had a difficult time crossing a river nearby and declared it to be embarrassing. It's funny to think that a town could be named after such an embarrassing experience! 
12. Two Egg, Florida
It's almost as though Two Egg, Florida was hatched from a barter system! In the early days of the town, farmers would bring two eggs in exchange for a gallon of gasoline. Eventually, it became known simply as Two Egg, and the rest is history! Who knew a town could be born from something as simple as two eggs.
13. Santa Claus, Indiana
This charming community was named in honor of the beloved holiday figure, making it the perfect place to celebrate the spirit of the season all year long.
14. Booger Hole, West Virginia
The quaint settlement of Booger Hole lies nestled in the hills of West Virginia, a name derived from the eccentric old man who often perched nearby, indulging in a most disagreeable pastime. Its humorously unconventional label is sure to bring a smile to all who pass through!
15. Toadlena, New Mexico
Toadlena a town whose name comes from the Navajo word for lightning, is certainly a place of electrifying character. With its roots stemming from the powerful force of nature, this small community is sure to spark your interest!
16. Peculiar, Missouri
A tiny town called Peculiar was given its name by a postmaster who deemed the area a bit, well, peculiar. It's quite an amusing thought to consider that a place could become known due to someone's point of view!
17. Sweet Lips, Tennessee
Hidden in the lush Tennessee valleys lies Sweet Lips, the epitome of small-town charm. Named after the hospitable innkeeper of days gone by, this cheerful village will bring a smile to your face. From the inviting atmosphere to the warm locals, Sweet Lips will be a memory to stay with you forever.
18. Cheesequake, New Jersey
This town in Central New Jersey must have been named by someone with a wild imagination. After all, there's no cheese or quakes here! It's a small, sleepy town with plenty of charming independent shops and cozy cafes.
19. Hell, Michigan
This tiny town just outside of Ann Arbor is anything but what its name implies. In fact, it's a beautiful little spot with a charming downtown, plenty of outdoor activities, and a fun, laid-back atmosphere.
20. Intercourse, Pennsylvania
Tucked away between the bucolic hills of Pennsylvania, lies the rustic and charming town of Intercourse. With its titillating name, even the locals can't help but joke about its suggestive implications. Yet, despite this, all agree that Intercourse is the perfect place for a romantic getaway.
21. No Name, Colorado
No Name is a small unincorporated community located in the Northwestern corner of the state. The town has earned its amusing name due to the fact that the US Postal Service rejected the name originally proposed for the town, so it was forced to settle for the generic "No Name". Despite its odd name, No Name is actually a rather charming and picturesque area, and boasts some of the most beautiful views of the Rocky Mountains. It's also home to a variety of outdoor recreational activities, including hiking, camping, and fishing. All in all, No Name is a great destination to check out if you're looking for some fun and relaxation.
22. Hazardville, Connecticut
It's a community of just over 5,000 people that has been known to have a good laugh at its own expense. The town takes its name from the Hazard Powder Company, which was a gunpowder mill founded in the mid-1800s. The company's logo was a depiction of a man in a red top hat, and locals began to call the town "Hazardville" in honor of the company. Today, the town is home to a few quaint restaurants, a few small stores, and a few other local businesses that cater to the needs of the small community. Despite its small size, Hazardville has come up with some of the most creative and catchy names for its businesses, including the Hot Doggy Dog Cafe, the Giggle Stop Ice Cream Shop, and the Hazardville Hot Tub Spa.