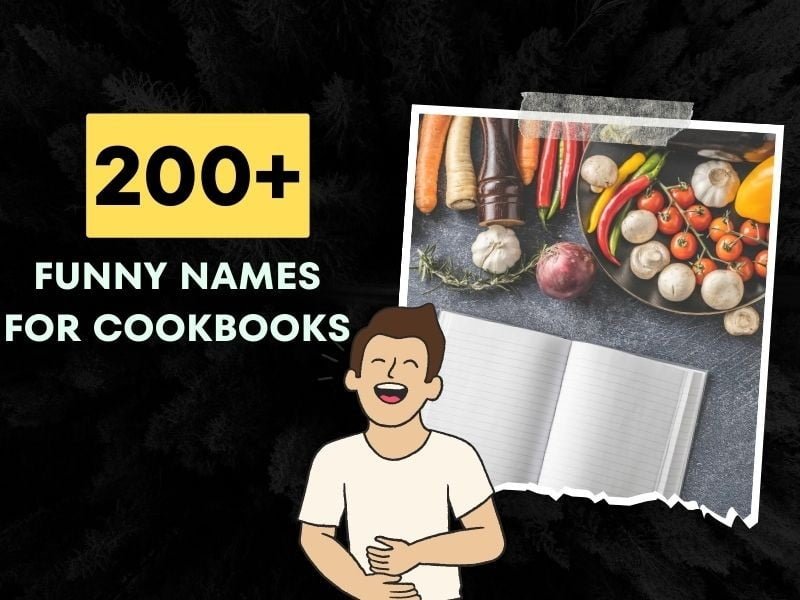 Are you tired of the same old, boring cookbook titles? Do you want to add a dash of humor to your kitchen? Well, you're in luck! We've cooked up a list of hilarious and unique cookbook names that will surely spice up your bookshelf.
From 'Grill Power' to 'Pasta La Vista, Baby!', these titles are guaranteed to make you chuckle while you chop.
So, put on your apron, grab your spatula, and let's dive into the world of funny cookbook names.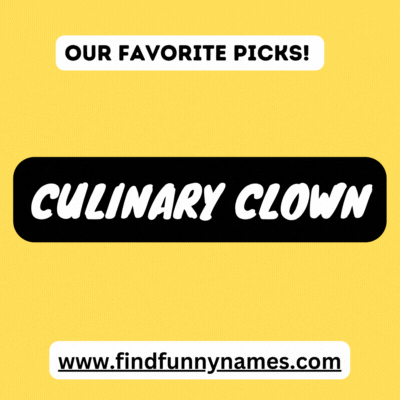 How to Choose the Perfect Name for Your Cookbook
Choosing the perfect name for your cookbook is an art. It's about capturing the essence of your culinary journey and presenting it in a way that's both appealing and memorable. Here's how you can do it:
Identify Your Cookbook's Unique Selling Point: What makes your cookbook stand out from the rest? Is it your personal cookbook filled with family recipes passed down through generations? Or is it a collection of recipes inspired by online cookbooks? Identifying your unique selling point can help you come up with a name that reflects your cookbook's distinctiveness.
Consider Your Target Audience: Who are you writing for? Are your readers seasoned chefs or beginners in the kitchen? Understanding your audience can help you choose a name that resonates with them. For instance, "The Cook Book for Busy Parents" speaks directly to parents who are short on time.
Reflect Your Cooking Style: Your cookbook's name should reflect your cooking style. Are your recipes simple and straightforward, or are they elaborate and gourmet? A name like "Simple Pleasures: Easy Everyday Recipes" might work for the former, while "Gourmet at Home: Elevate Your Cooking" could suit the latter.
Use a Cookbook Names Generator: If you're struggling to come up with a name, a cookbook names generator can provide some inspiration. These online tools generate a variety of names based on keywords related to your cookbook's theme or content.
Keep It Simple and Memorable: The best cookbook names are easy to remember and pronounce. They're also short and catchy. Think of famous cookbooks like "Mastering the Art of French Cooking" or "The Joy of Cooking." These names are simple, yet they perfectly encapsulate what the cookbooks are about.
Test Your Cookbook Name: Once you've come up with a few potential names, test them out. Ask friends and family for their opinions. You could also conduct an online poll. The feedback you receive can help you choose the best name for your cookbook.
Funny Names for Cookbooks (with Meaning)
1. Grill Power
The Ultimate Guide to BBQ Mastery – If you're a grill master looking to take your skills to the next level, this cookbook is for you. With recipes ranging from classic burgers to exotic grilled pineapple, you'll impress your guests and leave them begging for more. So fire up that grill, grab a cold one, and get ready to unleash your inner grilling power.
2. Pasta La Vista, Baby!
A Foodie's Adventures in Italy – What could be better than an Italian foodie's travel guide to the country of his birth? Well, if that foodie also happens to be a lover of pasta and pizza, he can't go wrong with this book. With recipes from authentic restaurants all over Italy, there is no shortage of tasty dishes to sample. From lasagna to spaghetti with meatballs, this cookbook has it all.
3. Bake Off
The Ultimate Guide to Baking Like a Pro – Do you dream of being the star baker in your friend group? Then this is the cookbook for you. With easy-to-follow recipes for everything from classic chocolate chip cookies to show-stopping layered cakes, you'll be the talk of the town in no time. So dust off your apron, preheat your oven, and get ready to become a baking legend.
4. Tasty Tidbits
With tips like "If you have never made this particular recipe, it's probably because you haven't had the right equipment." You need a stand mixer or a powerful hand mixer to whip up the frosting." This cookbook has got your back! So, if you're always making the same meal for dinner, this is the one you've been looking for!
5. The Lazy Chef's Guide to Deliciousness
Quick and Easy Recipes for the Foodie on the Go – Do you love food but hate spending hours in the kitchen? Then this cookbook is your new best friend. With recipes that can be made in under 30 minutes, you'll be able to whip up gourmet meals in no time. So put down the takeout menu, turn off Netflix, and get ready to impress yourself with your own culinary skills.
6. Secret Sauce
From salads to cookies, this cookbook has the secret sauce to make all your favorite dishes taste better. If you can't tell from reading the title, this book is chock-full of the delicious recipes you know and love, plus some new ones to make you say, "Wow!"
7. Cooking with Booze
A Drunken Chef's Guide to Deliciousness" – This cookbook is for those who love to drink and cook at the same time. The recipes in this book incorporate different types of alcohol, from beer to whiskey, to enhance the flavor of the dish. It's perfect for those who want to have fun in the kitchen and enjoy a drink or two while cooking.
8. Real Food Fast
You'll never feel like you're eating processed foods when you eat these meals. With no artificial colors, flavors, or preservatives, it's easy to feel confident about what you're consuming. These recipes have been designed to be made in under 30 minutes, so you can get back to enjoying life as quickly as possible.
9. Healthy Eating for Life
If you're looking for healthy eating ideas that will stick around for life, look no further. This cookbook includes over 150 recipes that are packed full of veggies, fruits, lean meats, and whole grains. Whether you're trying to lose weight or just eat healthier, this cookbook has something for everyone.
10. Nourish: Food, Body, Mind
Nourish: Food, Body, Mind provides tips on how to live a balanced and nutritious lifestyle, by eating healthy food and paying attention to your body's signals. This cookbook is designed to help you achieve optimal health and wellness by being mindful of what you put into your body. It also shows how it affects your mind and soul.
Funny Names for Cookbooks Ideas List
Who said cooking has to be serious? With these funny cookbook names, you'll be laughing all the way to the kitchen.
Whether you're a seasoned chef or a culinary novice, these cookbooks promise to add a dash of humor to your cooking routine.
1. Half-Baked Chef
2. Food Folly
3. Cooking Catastrophes
4. Recipe Wrecking Ball
5. Burnt Toast Chronicles
6. Kitchen Klutz
7. Culinary Clown
8. Mealtime Mishap
9. Recipe Reject
10. Cooking Catastrophe
11. Recipe Ruiner
12. Mealtime Mayhem
13. Culinary Catastrophe
14. Cooking Caper
15. Recipe Rascal
16. Food Flop
17. Cooking Curse
18. Kitchen Comedian
19. Recipe Renegade
20. Mealtime Mischief
21. Culinary Comedy
22. Cooking Comedy Hour
23. Recipe Romp
24. Food Faux Pas
25. Kitchen Kook
26. Recipe Rebel
27. Mealtime Madness
28. Culinary Caper
29. Cooking Conundrum
30. Recipe Rascal
31. Food Folly Follies
32. Kitchen Krazy
33. Recipe Ruckus
34. Mealtime Madness
35. Burnt Chef: Recipes for the Hopeless
36. Food Rave Reviews
37. Recipe Ramble
38. Food Follies
39. Kitchen Khaos
40. Recipe Rascal's Rebellion
Unique Names For family Cookbook Ideas List
1. Family Kitchen Chronicles
2. From Our Table to Yours
3. Our Family's Secret Recipes
4. Generations in the Kitchen
5. Family Feast Favorites
6. Cooking Through the Family Tree
7. Nana's Kitchen
8. My Mom's Table
9. The Taste of Home and Family
10. Family Food Memories
11. Family Recipe Box
12. The Kitchen Table Cookbook
13. A Taste of Our Family
14. The Family Recipe Collection
15. Family Kitchen Traditions
16. Family Recipe Journal
17. From Grandma's Kitchen
18. Our Family's Delightful Dishes
19. The Art of Making a Meal
20. Family Recipe Album
21.  Family Recipe Vault
22. Family Recipe Binder
23. Family Recipe Notebook
24. Family Recipe Diary
25. Soul of Food
26. Family Recipe Compendium
27. Recipe Log
28. Family Favorites
29. Perfect Holiday Meal
30. Family Recipe History
31. Dad's Cookbook 
32. Family Recipe Digest
33. Family Recipe Handbook
34. The Family Recipe Guide
35. The Family Recipe Companion
36. Daily Family Recipe Manual
37. America's Best Family Cookbooks
38. Home Recipe Encyclopedia
39. Homie Recipe Library
40. Family Recipe Encyclopedia
41. All Family Recipe Archive
42. Family Recipe Memoir
43. Family Recipe Timeless Treasures
44. Family Fun Recipe Yearbook
45. Family Funny Flavors
46. The Family Recipe Keepsake
47. The Foodie Family
48. The Family Recipe Treasury
49.  Homestyle Cooking
50. Family Recipe Legacy
Dessert Cookbook Names Ideas List
1. Sweet Temptations
2. Decadent Delights
3. Heavenly Desserts
4. Sugar Rush
5. Baked Perfection
6. The Sweet Spot
7. Indulgent Treats
8. Dessert Dreams
9. Satisfy Your Sweet Tooth
10. Sweet Treats Galore
11. Mastering Desserts
12. Delicious Desserts
13. The Art of Desserts
14. Gourmet Sweets
15. From Scratch Desserts
16. Heavenly Bites
17. The Dessert Bible
18. The Ultimate Dessert Cookbook
19. Sweet Endings
20. The Sweet Life
21. Dessert Heaven
22. The Dessert Chef
23. Sweet Sensations
24. Sweet Satisfaction
25. Sugar High
26. The Dessert Genius
27. The Dessert Maker
28. Baking with Love
29. The Dessert Enthusiast
30. The Sweet Escape
31. Dessert Delights
32. The Sweetest Thing
33. Simply Sweet
34. Sweet Tooth Heaven
35. The Dessert Connoisseur
36. The Sweet Life Cookbook
37. Sweetness Overload
38. The Dessert Specialist
39. Sweet Obsessions
40. The Dessert Artist
41. Sweet Tooth Cookbook
42. Dessert Lover's Bible
43. The Sweet Tooth Chef
44. Sweetness Simplified
45. The Dessert Buff
46. Dessert Master
47. Sweet Side of Life
48. Dessert Collection
49. Sweet Life Guide
50. Sweet and Simple Desserts
Mind-Blowing Names for Cookbooks Ideas List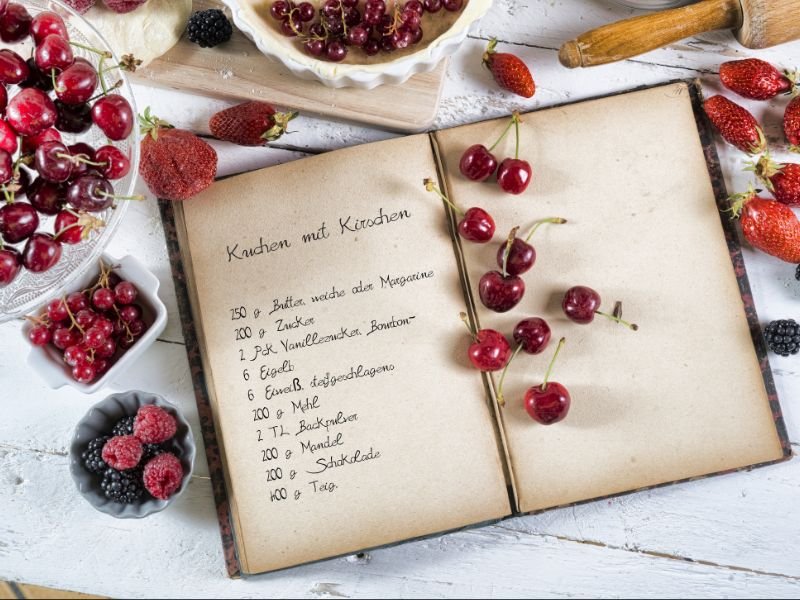 Choosing the perfect name for your cookbook can be a fun and creative process. It's an opportunity to showcase your unique style and humor, especially if you're aiming for funny names for cookbooks.
Whether you're compiling your personal cookbook or exploring the world of online cookbooks, a catchy and humorous title can make your book stand out.
Here's a list of Mind-Blowing and creative names for cookbooks that will surely tickle your funny bone and stir up your appetite:
"Eat, Pray, Burn"
"Fifty Shades of Gravy"
"Game of Scones"
"The Walking Bread"
"The Lord of the Wings"
"Harry Potter and the Chamber of Secret Recipes"
"The Da Vinci Cod: A Fishy Cookbook"
"The Bun Also Rises"
"To Grill a Mockingbird"
"The Life of Pie"
The Chronicles of Narnia: The Lion, the Witch, and the Wardrobe of Spices
The Cook Book of Unfortunate Recipes"
"The Hunger Games: Catching Fire in the Kitchen"
"Jurassic Pork"
"The Great Catsby: A Seafood Cookbook"
"The Codfather: An Italian Seafood Cookbook"
"Gulliver's Travels: Around the World in 80 Dishes"
"The Silence of the Lamb Chops"
"The Perks of Being a Cauliflower"
The Secret Life of Beets"
"The Girl with the Dragon Fruit Tattoo"
"Pride and Pudding"
"The Big Le-bao-ski: A Chinese Cookbook"
"The Old Man and the Seafood"
"The Picture of Dorian Gravy"
"A Tale of Two Salsas"
"The Grapes of Roast"
"The Count of Monte Cristo Sandwich"
"The Phantom of the Chopera"