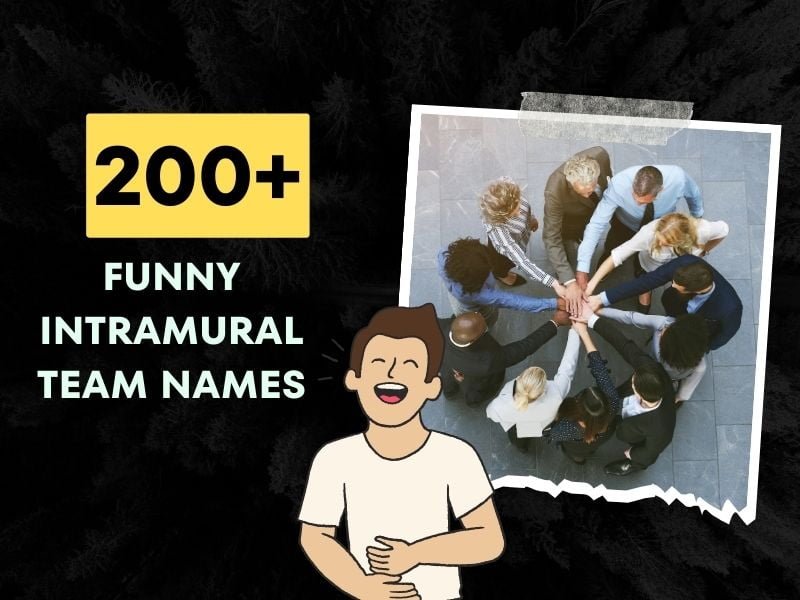 You're looking for something that'll make everyone chuckle, maybe even snort their drink out of their nose. But here's the kicker: it's not just about the laughs. A great team name can boost morale, foster camaraderie, and set the tone for the entire season.
Ever been stuck in that brainstorming session that feels like it's going nowhere? We've all been there. So, why do some names stick while others fall flat? It's a mix of wit, relatability, and a dash of nostalgia.
Remember that time you named your group chat after an inside joke? It's a bit like that. So, ready to dive into the world of funny intramural team names and find that perfect moniker? Let's get cracking!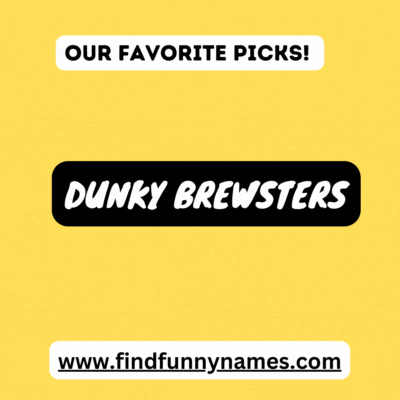 Funny Intramural Team Names (with Meaning)
Intramural sports are all about fun, camaraderie, and a touch of friendly competition. And what better way to kick off the season than with a hilarious team name that captures your squad's spirit? Here are 20 witty intramural team names, each paired with a backstory to give you a chuckle.
Goal Diggers:
This team is all about ambition! They're not just digging for soccer goals, but they're also aiming high in everything they do. A play on the term "gold diggers," this name showcases their drive with a humorous twist.
Vicious and Delicious:
A volleyball team that serves both fierce spikes and tasty BBQs after the match. Their dual nature is both intimidating on the court and delightful off it.
Brewed Awakening:
The ultimate basketball team for coffee lovers. They believe their morning brew gives them the energy to dunk and dribble past any opponent.
Game of Throws:
A nod to the popular TV series, this discus or javelin team loves drama on the field as much as they love it on screen.
Wii Not Fit:
A group that started their fitness journey with video games but decided to take their skills to the real world. They might not be the fittest, but they sure have fun!
Scrambled Legs:
Perfect for a morning running club. They might feel a bit mixed up at the crack of dawn, but they always finish strong.
Cereal Killers:
A team that believes in the power of a hearty breakfast. They're out to "kill" the competition, one bowl at a time.
Sole Survivors:
A shoe-loving soccer team. They believe their fancy footwork (and footwear) sets them apart from the rest.
Batters Up:
A softball team with a love for baked goods. After a game, you'll find them whipping up some delicious treats.
Sets on the Beach:
A beach volleyball team that loves sunsets and serves. They're all about the vibes, both on and off the sand.
Kicks & Giggles:
A soccer team that believes laughter is the best way to deal with a missed goal or a tough loss.
Blockbusters:
A volleyball team that's all about those powerful blocks. They aim to be the stars of the court, just like the movies.
Running on Empty:
A track team that always gives their all, even when they feel they've got nothing left in the tank.
Swish Kebabs:
A basketball team with a flair for grilling. They aim to "skewer" their opponents with their sharp shooting skills.
Net Results:
A tennis squad that's all about outcomes. They believe in strategizing for every point to get the desired "result."
Brokebat Mountain:
A baseball team that's seen its fair share of intense games. Their bats might break, but their spirit never does.
Serve-ivors:
A tennis team that prides itself on its powerful serves. They believe that to survive in the game, one must serve with precision.
Full Court Pressed Juice:
A health-conscious basketball team. They believe in the power of fresh juices to fuel their games.
Punt Intended:
A football team with a sense of humor. They love a good play on words as much as they love a good play on the field.
Spike Tysons:
A volleyball team inspired by the legendary boxer. They believe in delivering powerful spikes, just as Tyson delivered knockout punches.
Funny Intramural Team Names Ideas List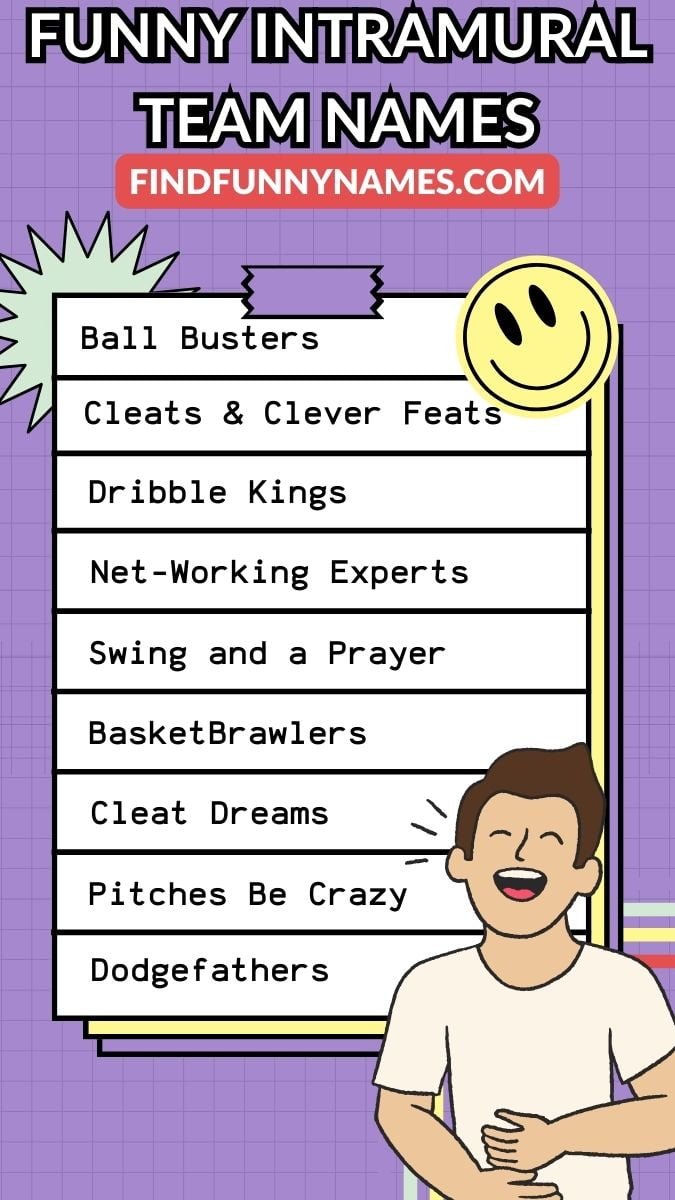 A catchy team name can set the tone, making every game memorable and every team huddle a burst of laughter. Dive into this list of hilarious intramural team names that are sure to get a chuckle out of players and spectators alike.
Ball Busters
Cleats & Clever Feats
Not Fast, Just Furious
Dribble Kings
Net-Working Experts
Swing and a Prayer
BasketBrawlers
Spike It Like It's Hot
Cleat Dreams
Pitches Be Crazy
Kickin' & Slickin'
Dodgefathers
Racquet Scientists
Goal Getters
Served Cold
Bump Uglies
Turf Tamers
Swing Shifters
Ballbarians
Paddle Puns
Cleat Chasers
Dunkin' Donuts
Ace Holes
Block Party
Spike Lee's Fans
Racquet Rascals
Dunky Brewsters
Pitch Slapped
Net Assets
Ballroom Dancers
Swing Syndicate
Punt & Run
Kickstarters
Bumpin' Buffoons
Slide Hustlers
Funny Intramural Team Names for Sports
Looking for a good laugh while competing in your intramural sports league? Check out these hilarious team names that are sure to bring some humor to the game!
Ball So Hard Hitters
Victorious Secret
Victorious Spongebobs
Sons of Pitches
Beer Pressure
Net Results
Game of Throws
Dodgefathers
Victorious Turtles
Better Late Than Pregnant
Scared Hitless
Victorious Beavers
Multiple Scoregasms
Victorious Muffins
Victorious Pandas
Victorious Penguins
Victorious Lemons
Victorious Unicorns
Victorious Llamas
Victorious Narwhals
Victorious Chickens
Victorious Tacos
Victorious Donuts
Victorious Wizards
Victorious Gummy Bears
Victorious Minions
Victorious Bananas
Victorious Koalas
Victorious Zombies
Victorious Ninjas
Victorious Robots
Victorious Gnomes
Funny Intramural Team Names VollyBall
Intramural volleyball is all about fun, teamwork, and a dash of humor. If you're looking for some hilarious and unique team names to stand out on the court, we've got you covered.
Check out these 30+ funny intramural volleyball team names, and get ready to spike, bump, and laugh your way to victory!
Block Party
The Volley Llamas
Sets on the Beach
Net Navigators
Bump It Up
Block and Awe
Notorious D.I.G.
Spike-Tacular
Ball Whisperers
Hit Me Baby One More Time
Serving Cervezas
Kiss My Ace
Game, Set, Matchmakers
The Court Jesters
Dinkin' Flicka
Volley of the Dolls
Block Magic Woman
The Aceholes
The Spike Tysons
Setting Ducks
Volleywood Stars
Beach Bums
Net Ninjas
Kiss My Pass
Spiked Punch
Setsy and We Know It
Notorious B.I.G. (Ball Is Good)
Blocktastic Four
Beach Please
The Blockheads
Spikeaholics Anonymous
The Volley Ghouls
Serves You Right
Court Jesters United
In Your Face-Volleyball
Blockbusters
The Volley Leprechauns
Ball Busters
Professional Intramural Team Names
Intramural sports are a fantastic way to foster team spirit, friendly competition, and fitness among colleagues, friends, or community members.
To help you create a memorable and professional intramural team, here are 30+ unique team name ideas to choose from.
Victorious Vipers
Athletic Alchemists
Powerhouse Panthers
Dynamo Dominators
Elite Enforcers
Precision Pioneers
Thunder Troopers
Rapid Raptors
Supreme Spartans
Majestic Mavericks
Thrive Titans
Energetic Eagles
Thunderstorm Tacticians
Phoenix Fusion
Cyclone Challengers
Uptempo Unicorns
Stellar Strikers
Ironclad Innovators
Dynamic Dragons
Ambitious Avengers
Resilient Rhinos
Tenacious Tornadoes
Blaze Blasters
Forcefield Firebirds
Zenith Zephyrs
Invincible Iguanas
Fierce Foxes
Noble Nomads
Ascendant Aztecs
Quantum Quicksilvers
Valiant Voyagers
Galactic Gladiators
Agile Archangels
Vibrant Vikings
Renaissance Renegades
Radiant Ravens
Sovereign Serpents
Infinite Innovators
Apex Ambassadors
Triumph Tigers
Best Intramural Team Names Basketball
Intramural basketball teams are all about fun, camaraderie, and a bit of friendly competition.
To help you stand out on the court and make a lasting impression, here are 30+ creative and unique intramural basketball team names that you can consider.
Ballin' Blazers
Dunk Dynasty
Swish Squad
Net Ninjas
Rim Rockers
Hoop Dreamers
Court Crushers
Triple Threat Titans
Alley-Oop Artists
Jump Shot Jugglers
Crossover Kings
Rebound Rangers
Fastbreak Fireballs
Dribble Dominators
Full-Court Frenzy
Free Throw Phantoms
Slam Dunk Stars
Layup Legends
Three-Point Warriors
Post-Up Pioneers
Spin Move Magicians
Basket Brawlers
Bounce Pass Bandits
Hoop Troopers
Shooting Stars
Zone Defense Zealots
Steal & Score Strikers
Jumper Jokers
Fast and Furious Hoops
Rim Protectors
The Free Throw Furies
Court Commanders
Alley-Oop Architects
Full-Court Fanatics
Backboard Breakers
What are the tips and tricks for Creating your own comedy gold with Funny Intramural Team Names?
Are you ready to embark on the exciting journey of crafting the perfect funny intramural team name? Let's delve into some tips and tricks that will have you and your teammates rolling with laughter while leaving a lasting impression on the court.
Start with a Dash of Puns and Wordplay
Imagine your team name as a stand-up comedy act. Incorporate puns, wordplay, and clever combinations of basketball terms to infuse humor effortlessly.
For instance, "Air Ballers" combines the notion of basketball prowess with a hilarious mishap.
Embrace the Absurd and the Unexpected
Comedy often thrives on the absurd and unexpected. Consider juxtaposing seemingly unrelated elements, like "Dunkin' Donuts," which hilariously combines basketball dunks with a popular coffee chain.
Reflect Team Personality
Does your team have a unique inside joke or a quirky trait? Use it to your advantage!
A name like "Clumsy Dunkers" could be perfect if your team is known for its unorthodox style.
Keep It Short and Snappy
Short and memorable names tend to resonate better.
Think about iconic NBA team names like the "Chicago Bulls" or "Miami Heat." They are succinct and instantly recognizable.
Leverage Pop Culture References
Pop culture is a goldmine for humorous references. Whether it's a play on famous movie titles or a twist on celebrity names, it can add a layer of relatability and amusement.
Consider "Space Jamsters" as a nod to the iconic movie "Space Jam."
Involve the Whole Team in Brainstorming
Teamwork extends beyond the court. Involve all team members in the brainstorming process to ensure that everyone's sense of humor is represented.
You might discover comedic gems that you'd never think of alone.
Test It Out Loud
Before finalizing your team name, test it out loud.
Say it several times, and ask yourself: Does it roll off the tongue easily? Does it make people smile or chuckle when they hear it?
Avoid Offensiveness
While humor is subjective, it's essential to ensure your team name doesn't cross the line into offensiveness or insensitivity.
Aim for humor that brings people together, not divides them.