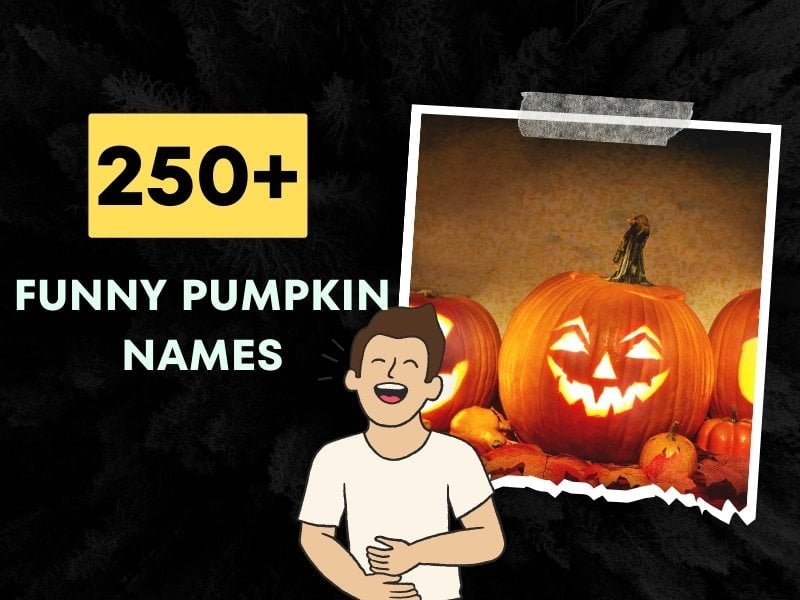 Finding the perfect name for your plump pumpkin can turn into a real head-scratcher. Maybe you've just picked the biggest one from the patch, and now you're looking for a name that does justice to its orange splendor.
Or perhaps you're planning a quirky garden display, and all that's missing is a catchy title for your gourd-geous new friend. Fret not; coming up with funny pumpkin names doesn't have to be a tough nut to crack.
It can be as enjoyable as carving the pumpkin itself! Stick around, and let's dive into some whimsical ideas that'll have you grinning from ear to ear.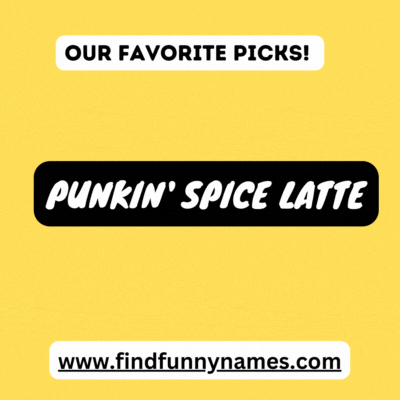 Practical Tips and Techniques for Naming Your Pumpkin
Pumpkin naming is an art form that brings joy and laughter to the autumn season. With a pinch of creativity and a dash of fun, you can name your pumpkins in a way that adds character and charm. Here's how to do it:
Using Puns, Alliteration, and Wordplay
Puns are the spice of witty wordplay. Consider naming a tall pumpkin "Leggy Larry" or a chubby one "Plump Patty." You can take common phrases and tweak them to create something like "Rouge Roger's Ride" for a red pumpkin.
Alliteration adds rhythm and flair, as in "Penny the Plump Pumpkin" or "Tommy the Tall Topiary." You can also combine different elements for a quirky twist, like "Silly Sally's Sunken Souvenir" for a mishappen pumpkin.
Assessing the Pumpkin's Appearance
The appearance of your pumpkin plays a huge role in its naming. Large pumpkins might be "Big Benny's Bounty," while a small one could be "Tiny Tina's Treasure." Analyze the pumpkin's color, texture, and unique features to craft the perfect name.
Don't shy away from imperfections either. A scar might turn a pumpkin into "Harry the Halloween Hero." Embrace what makes your pumpkin unique and use those features to fuel your creativity.
Pairing with Decorations or Themes
When it comes to pairing your pumpkin with decorations or themes, think about the overall vibe you're trying to achieve. 
If you've got a ghost theme going, perhaps "Ghostly Gerty's Gourd" fits the bill. Nearby scarecrows, witches, or spiderwebs can inspire names like "Scary Scarecrow's Sidekick" or "Wendy Witch's Wonder." 
Consider the time of year and seasonal themes as well. "Autumn Andy's Arrival" could be perfect for a fall-themed garden.
Top 20 Funny Pumpkin Names (with Meanings)
Let's roll through these funny pumpkin names packed with character and an excellent ol' chuckle. 
1. Sir Plump-a-Lot
A nod to the plump and regal figure, perfect for a pumpkin that's a bit on the hefty side and proud of it.
2. Gourdon Ramsay
For the kitchen enthusiast, a fun play on words that might inspire some culinary magic with that pumpkin.
3. Orange Crush
Name your pumpkin after your favorite soda, or maybe it's a wink to that high school sweetheart? Either way, it's bound to get smiles.
4. Pulp Fiction
Literary folks will get a kick out of this one – an artsy name for a pumpkin that's bursting with personality and intrigue.
5. Cinderfella
Why should Cinderella have all the fun? A humorous twist for a pumpkin that's ready for the ball, but in a laid-back, guy-next-door way.
6. Jack-o-Lanternman
A little twist on the classic Jack-o'-lantern, for a pumpkin that wants to be a bit more formal and sophisticated.
7. PumpQueen
Here's a name for a pumpkin that's owning its sass and style, strutting its stuff right on your porch.
8. Seedney Poitier
A cultured and suave name that offers a tip of the hat to the famous actor, for a pumpkin with some real class.
9. Gourdzilla
For that pumpkin that's just too big to ignore, a monster of a name that'll have folks looking twice.
10. Squashbuckler
Ahoy there! Perfect for a pumpkin with some adventurous flair, ready to sail the seven seeds.
11. Peter Pumpkin Eater
A whimsical name with a nursery rhyme twist; for a pumpkin, you just can't help but adore.
12. Madame Marrow
A bit of French flair for a pumpkin that's oozing with elegance and charm.
13. James and the Giant Peach
For that pumpkin that's got dreams bigger than itself. It's orange, it's ambitious, why not?
14. Punky Brewster
A retro throwback for a pumpkin that's just too cool for school, bursting with '80s vibes.
15. Spice Invader
Spice lovers unite! This one's for a pumpkin that's ready to invade your favorite autumn dishes.
16. Lantern Laughter
A pumpkin that's always in on the joke, lighting up the room with its humor.
17. Squashanova
A smooth and suave name for that pumpkin that's always charming its way into people's hearts.
18. Seedric the Entertainer
Classy and entertaining, just like the famous comedian, for a pumpkin that knows how to have a good time.
19. Gourdgeous George
It's not just good-looking, it's gorgeous! A funny twist for a pumpkin that's just a tad vain.
20. PumpKING of Comedy
For the pumpkin that's the life of the party, always ready with a joke, the real king of comedy.
There you have it – 20 names that'll turn your pumpkin into a real character. From classy to sassy, these names have got something for every pumpkin on the block!
Funny Pumpkin Names Ideas List
Are you still searching for that perfect name for your pumpkin? The one that captures its character, brings a smile to your face, and gets a laugh from anyone who sees it? Look no further.
Here's a list of 50 funny pumpkin names that are sure to tickle your funny bone and make your pumpkin the star of the neighborhood.
1. Plumpkin Spice
2. Gourdo DiCaprio
3. The Great Gourdsby
4. Marilyn Monrindge
5. Squashington Post
6. Charlie Brown's Delight
7. The Rolling Squash
8. Warty McWartface
9. Sassy Seedra
10. Sherlock Gourds
11. Sir Lumps-a-Lot
12. Pulp Non-Fiction
13. Squashinator
14. Gourdonna
15. The Lean Mean Squash Machine
16. Count Spatula
17. Pumpkin Pie Detective
18. Attila the Gourd
19. Doctor Gourdsome
20. Squashmo
21. Gourdon Bleu
22. Leonardo DaVeggie
23. Marrowlyn Monroe
24. Gourd of the Rings
25. Admiral Acorn
26. The Squashing Pumpkins
27. Mr. Plump's Wild Ride
28. Captain Jack Marrow
29. Gourdian Angel
30. Rindy Crawford
31. Gourdy Howe
32. Julius Squeezer
33. The Gourd Godfather
34. The Wizard of Gourd
35. Squashanova's Twin
36. Squashney Spears
37. Charlie Squash
38. Gourdelicious
39. PumpKim Kardashian
40. Sir Seedrick
41. CinderBella
42. Gourd Vuitton
43. Squashquatch
44. Lady GourGour
45. Barack O'Lantern
46. Gourdo Baggins
47. Pumpkin Grumpkin
48. General Pattonkin
49. Oprah Winfquash
50. Gourdon Freeman
Creative Pumpkin Names
Embarking on a journey to name your pumpkin is more than just a whimsical adventure; it's a creative exercise that breathes life into a simple gourd. 
Choosing a name for your pumpkin isn't just for children's delight; it's a festive tradition that adults can embrace too. Here are some guidelines to bring out the creative artist in you:
Think of the pumpkin's personality, and what its name should convey.
Consider the pumpkin's appearance – size, color, shape, and any distinct features.
Factor in the setting or theme if the pumpkin is part of a larger display.
Have fun with it! This is your opportunity to think outside the box.
Without further ado, let's delve into a list of 30 creative pumpkin names that you might find inspiring:
1. Gerty the Ghostly Gourd
2. Benny's Bumpy Bounty
3. Walter the Wicked Witch's Wonder
4. Tina's Twisted Topiary
5. Oliver the Orange Orb
6. Peter's Plump Party Pumpkin
7. Larry's Lumpy Lantern
8. Freddy's Fiery Fiesta
9. Sally's Sunken Souvenir
10. Priscilla's Pristine Princess
11. Marvin the Moldy Marvel
12. Betty's Big Bash Bonanza
13. Carl's Cracked Carnival
14. Donna's Daring Dance
15. Edgar's Elegant Ensemble
16. Fiona's Frightful Friend
17. Greg's Gargantuan Gathering
18. Holly's Haunting Halloween
19. Ike's Icy Illusion
20. Jenny's Jolly Jack-o-Lantern
21. Kevin's Kooky Kingdom
22. Lucy's Luminous Lounge
23. Max's Mystical Masquerade
24. Nora's Nighttime Nook
25. Oscar's Oddly-Shaped Odyssey
26. Patty's Perfect Pumpkin Patch
27. Quentin's Quirky Quest
28. Rita's Radiant Rendezvous
29. Sam's Spooky Spectacle
30. Timmy's Twinkling Twilight
Feel free to borrow, modify, or use these names as inspiration for your own pumpkin-naming endeavors. Each name encapsulates a different aspect of the pumpkin, providing endless avenues for creativity and fun. Happy naming!
Classic Pumpkin Names
Embracing the spirit of autumn and Halloween with a pumpkin doesn't always mean taking a wild or whimsical approach. Classic pumpkin names evoke a sense of tradition, elegance, and timeless charm. 
These names may resonate with those who prefer the understated over the extravagant, yet still desire to capture the essence of the season. 
1. Autumn's Elegance
2. Harvest Harmony
3. The Regal Recluse
4. Twilight's Embrace
5. Mystic Moonlit Night
6. Graceful Gourd Gala
7. October's Enchanting Eve
8. Serenade of the Shadows
9. Timeless Twilight Treasure
10. Whispering Wind Wanderer
11. Candlelit Autumn Affair
12. Eternal Fall Fantasy
13. Gentle Ghostly Gala
14. Harmony's Hallowed Hall
15. Illuminated Illusionist
16. Jubilant Jack's Journal
17. Kindred Spirit's Kiss
18. Luminous Lantern's Legacy
19. Majestic Midnight Masque
20. Noble Nightshade Nectar
21. Opulent October Oasis
22. Peaceful Pumpkin Parade
23. Quiet Quill's Quandary
24. Romantic Rose's Reverie
25. Solemn Sunset Soirée
26. Tranquil Twilight Tryst
27. Unveiled Underworld Utopia
28. Velvet's Vivacious Voyage
29. Whimsical Willow's Waltz
30. Yearning Yule's Yesteryears
Cool Pumpkin Names
When it comes to decorating with pumpkins, why settle for ordinary when you can go for cool? Naming your pumpkin can be a thrilling experience, allowing you to infuse a bit of your personality and creativity into the holiday season. 
Cool pumpkin names are not just about being trendy; they're about showcasing style, attitude, and a flair for the extraordinary. 
Here's a list of 30 cool names that can give your pumpkin that edgy twist:
1. Midnight Maverick
2. Rockstar's Rendezvous
3. The Urban Utopia
4. Hipster's Haunt
5. Cosmic Cruiser
6. Electric Ember
7. Rebel's Roost
8. Beatnik's Bazaar
9. Jazzy Jack's Jam
10. Vogue Vagabond
11. Trendsetter's Trance
12. Slick Shadow Serenade
13. Groovy Gourd Groove
14. Chic Charmer's Chase
15. Radical Riff Rambler
16. Soulful Sunset Soothe
17. Modish Mystic Mirage
18. Swanky Shade Swing
19. Urbane Uptown Umbra
20. Snazzy Starlit Soiree
21. Punk's Pumpkin Party
22. Boho Breeze Bash
23. Hip Harmony Hall
24. Trendy Twilight Tones
25. Dapper Dusk Dance
26. Stylish Sundown Symphony
27. Snappy Shadow Shuffle
28. Ritzy Rustic Retreat
29. Glamorous Grove Gala
30. Sleek Sunset Samba
Catchy Pumpkin Nicknames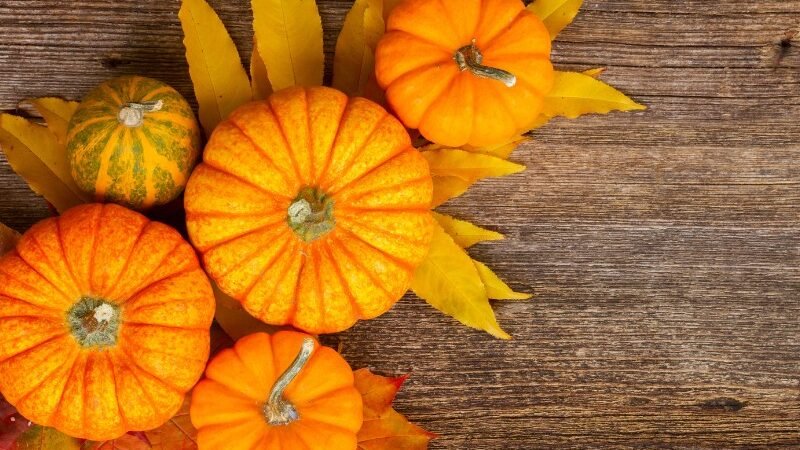 Turning an ordinary pumpkin into a memorable character starts with a catchy nickname. These little monikers can add fun, personality, and a bit of whimsy to any Halloween or autumn-themed occasion. 
Here's your quick guide to choosing a unique nickname for your pumpkin that will linger in the minds of friends and family, making your festive decor unforgettable:
1. Bouncing Betty's Boogie
2. Charlie's Charming Chorus
3. Dazzling Danny's Dance
4. Ellie's Enchanting Echo
5. Frisky Frankie's Fling
6. Giggling Ginny's Gala
7. Happy Harry's Hop
8. Itchy Izzy's Inn
9. Jolly Jerry's Jamboree
10. Kooky Kathy's Knees-up
11. Laughing Lily's Lounge
12. Mellow Mikey's Melody
13. Nifty Nancy's Nook
14. Perky Penny's Party
15. Quirky Quincy's Quest
16. Rambunctious Randy's Rave
17. Silly Sammy's Soiree
18. Ticklish Timmy's Tango
19. Upbeat Ulysses' Utopia
20. Vibrant Vicky's Voyage
21. Witty Willy's Waltz
22. Xany Xander's Xebec
23. Youthful Yara's Yacht
24. Zany Zack's Zenith
25. Sparkling Sarah's Splash
26. Marvelous Max's March
27. Jumping Jenny's Jam
28. Fancy Freddy's Fiesta
29. Cool Cathy's Cruise
30. Prancing Peter's Parade
Funny Disney-Inspired Pumpkin Names
1. Olaf's Sunny Smile
2. Cinderella's Midnight Marvel
3. Woody's Wild West Gourd
4. Belle's Bookish Bulb
5. Tangled Topiary
6. Snow White's Seven Squashes
7. Mickey's Magic Marrow
8. Donald's Duckin' Pumpkin
9. Peter Pan's Neverland Navel
10. Sleeping Beauty's Dreamy Seed
11. Ariel's Aquatic Acorn
12. Hercules' Heroic Harvest
13. Rapunzel's Towering Topiary
14. Goofy's Giggling Gourd
15. Slinky Dog's Stretchy Squash
16. Mary Poppins' Practically Perfect Pumpkin
17. Jungle Book's Jolly Jackfruit
18. Dumbo's Delightful Delicata
19. Genie's Wishful Pumpkin
20. Simba's Squash Circle
21. Bambi's Blossoming Bulb
22. Gaston's Gallant Gourd
23. Mulan's Mighty Marrow
24. Tarzan's Jungle Jubilee
25. Pocahontas' Earthy Acorn
26. Pinocchio's Truthful Topiary
27. Lady and the Tramp's Love Lantern
28. Lilo & Squash
29. Nemo's Nautical Navel
30. Timon & Pumbaa's Pumpkin Party
Taking a beloved Disney character or theme and transforming it into a pumpkin name isn't just about nostalgia. 
It's a creative journey that can be as fun and engaging as watching the films themselves. Grab your fairy dust, awaken your inner child, and let the magical naming begin.
Why Choosing the Perfect Name is Essential for Your Little Pumpkin
Naming your pumpkin might sound like a quirky pastime, but it's more than just a fun exercise.
The perfect name can transform a simple squash into something memorable, humorous, or even sentimental.
Here's why getting that name just right matters, whether it's for your little pumpkin, your pumpkin fest, or even enhancing your garden's appearance with a pumpkin topiary.
Personal Connection:
Naming a pumpkin helps create a bond with it.
It becomes a part of your family tradition or personal story.
Example: A name like "Pumpkin Pie Surprise" could reflect a shared family memory of baking together.
Entertainment Value:
Funny or creative names can entertain guests and neighbors.
It's a conversation starter and adds liveliness to your home decor.
Example: A pumpkin named "Sir Gourds-a-Lot" on your porch will surely get some chuckles.
Enhancing Pumpkin Fest Celebrations:
Unique names can make pumpkin festivals more engaging.
It adds a layer of competition and fun to pumpkin carving and decorating contests.
Example: Naming contest categories like "Most Elegant" or "Funniest" at a pumpkin fest.
Garden Aesthetics with Pumpkin Topiary:
Naming your pumpkin topiary gives it character.
It complements your garden theme and enhances visual appeal.
Example: A topiary named "Gourd Blossom Archway" can become a highlight in a garden filled with floral wonders.
Kids' Engagement and Creativity:
Encouraging children to name their mini pumpkins fosters creativity.
It helps them take ownership of their creation and feel pride.
Example: A child naming their little pumpkin "Sunny Seed" after painting it with bright sunflowers.
Avoiding the Dreaded Rotten Pumpkin Situation:
Proper care and connection with your pumpkin prevent neglect.
A well-named pumpkin might encourage you to notice signs of decay earlier.
Example: If "Miss Marrow" starts to wilt, you're more likely to take action since you've invested time in her name.
How to Create Disney Pumpkin-Inspired Names for That Magical Touch
Disney's enchantment transcends ages, resonating with kids and adults alike. So why not sprinkle some of that magic onto your pumpkins this season? 
Naming your pumpkins after Disney characters or themes is a delightful way to infuse wonder into your home or garden. 
Here's how to get started, along with a list of 30 funny Disney-inspired pumpkin names to spark your creativity.
Find Inspiration from Your Favorite Disney Characters:
Explore Disney Movies:
Dig into classics or new favorites like "The Lion King," inspiring names such as "Simba's Squash" or "Pumbkin Timon."
Consider Character Traits:
Think about the personality or quirks of characters like Elsa from "Frozen" for names like "Frosty Elsa's Glow."
Mix and Match Names and Themes:
Combine names or themes from different movies, like "Mickey's Magic Gourd" or "Ariel's Undersea Acorn."
Embrace Disney Magic in Your Pumpkin Designs:
Incorporate Colors and Symbols:
Use recognizable Disney symbols, such as Cinderella's slipper or Aladdin's lamp, for names like "Tinkerbell's Twinkling Topiary."
Embrace the Villains:
Don't overlook the darker characters; they add a fun twist with names like "Ursula's Unruly Squash."
The Rise of Rotten Pumpkin Names: A Humorous Twist on Decay
A rotten pumpkin might seem like a squandered opportunity for some beautiful home decor, but it can actually be a golden chance to add humor and character to your surroundings. Naming rotten pumpkins is more than just a gag; it's turning decay into an unconventional form of art and conversation.
Why name a rotten pumpkin? Well, it offers a fresh take on decay. You can turn something unsightly into a humor-filled conversation piece.
Got a shriveled pumpkin? Call it "Old Man Wrinkle's Marvel!" A wilted pumpkin might be "Zombie Jack's Lantern." This transformation from rotten to delightful is akin to a magician's trick with words.
When you're picking the perfect rotten name, you need to assess the decay. Look at the pumpkin's unique rotten features. Is it moldy, shrunken, or sagging? 
The name should reflect its character. Get creative with characters and play with puns and alliteration for a chuckle-worthy twist. 
Turning decay into decoration is about accentuating the features. Don't hide the rottenness; showcase it! Combine your rotten pumpkin with other items for a full scene. Join the community and share your names and creations online. Who knows, your idea could become the next big thing!
However, some tips and cautions are necessary. Be mindful of the smell and keep it clean and safe. Rotten pumpkins can attract pests, so containment and disposal are crucial.