In the thrilling world of fantasy football, a team name is more than just a title—it's a statement, a declaration of your cleverness, humor, and football acumen.
It's the first thing your competitors notice about you, and it sets the tone for the entire season. So, are you ready to step up your game?
Are you prepared to leave the mundane behind and embrace the hilarious, the witty, and the downright funny?
Then buckle up, because we're about to dive into the realm of funny fantasy football names, a place where humor meets competition, and where your team name becomes the talk of the league.
Let's get started, shall we?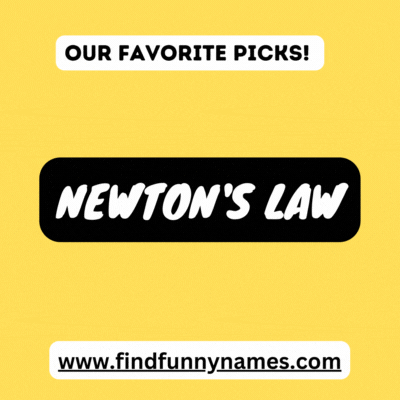 Unleashing Your Humor: The Art of Crafting Funny Fantasy Football Names
Why a Funny Name Makes Your Fantasy Football Experience Better?
Humor is the spice of life, and it's no different in the realm of fantasy football. A funny team name not only adds a dash of hilarity to your league but also makes your fantasy football experience more enjoyable. 
It's a way to express your creativity, show off your wit, and keep the spirit of fun alive throughout the season. Remember, the goal is to make your fellow league members chuckle every time they see your team name.
The Role of Pop Culture in Creating Hilarious Team Names
Pop culture is a goldmine for funny fantasy football names. From movies and TV shows to music and memes, pop culture references can make your team name instantly recognizable and amusing. 
For instance, names like "Stairway to Evans" or "Golden Tate Warriors" cleverly incorporate popular culture with football player names. So, next time you're brainstorming, consider your favorite pop culture phenomena for inspiration.
Player Puns: A Goldmine for Fantasy Football Names
Player names offer a wealth of opportunities for puns and wordplay. A clever pun can make your team name memorable and humorous. Consider names like "Dak to the Future" or "LA Marvel Cinematic Universe," where players are likened to popular movie characters. 
These names not only show your knowledge of football but also your ability to turn a phrase. So, don't shy away from puns—they might just be your ticket to the funniest team name in your league.
Best Funny Fantasy Football Names (with Meaning)
Stairway to Evans: 
This name is a clever play on the classic Led Zeppelin song "Stairway to Heaven," with a twist for fans of wide receiver Mike Evans.
Raiders of the Lost Yards: 
A humorous nod to the Indiana Jones movie "Raiders of the Lost Ark," this name is perfect for those who've suffered some unfortunate losses in yardage.
Golden Tate Warriors: 
A pun on the NBA team Golden State Warriors, this name is a fun choice for fans of wide receiver Golden Tate.
Dak to the Future: 
A playful reference to the "Back to the Future" movie franchise, this name is ideal for supporters of quarterback Dak Prescott.
Back to the Future Three: 
Another "Back to the Future" reference, this name could signify a third season or a trio of top players on your team.
Olive Garden: 
Taking a cue from the popular restaurant chain that offers unlimited breadsticks, this name could interpret as an "unlimited" potential for points.
LA Marvel Cinematic Universe: 
For fans of both the Marvel Cinematic Universe and the LA Ravens, this name likens the team's players to superheroes.
Lamarvelous Jackson: 
A combination of "marvelous" and "Lamar Jackson," this name praises the exceptional skills of the Ravens' quarterback.
Mark 'The Hulk' Andrews: 
Drawing a parallel between tight end Mark Andrews and the powerful Marvel character, this name is for those who appreciate strength on the field.
The Brady Bunch: 
A classic TV show reference combined with the name of renowned quarterback Tom Brady, this name is a timeless choice for any fantasy football team.
Funny Fantasy Football Names for the 2023/24 Season Ideas List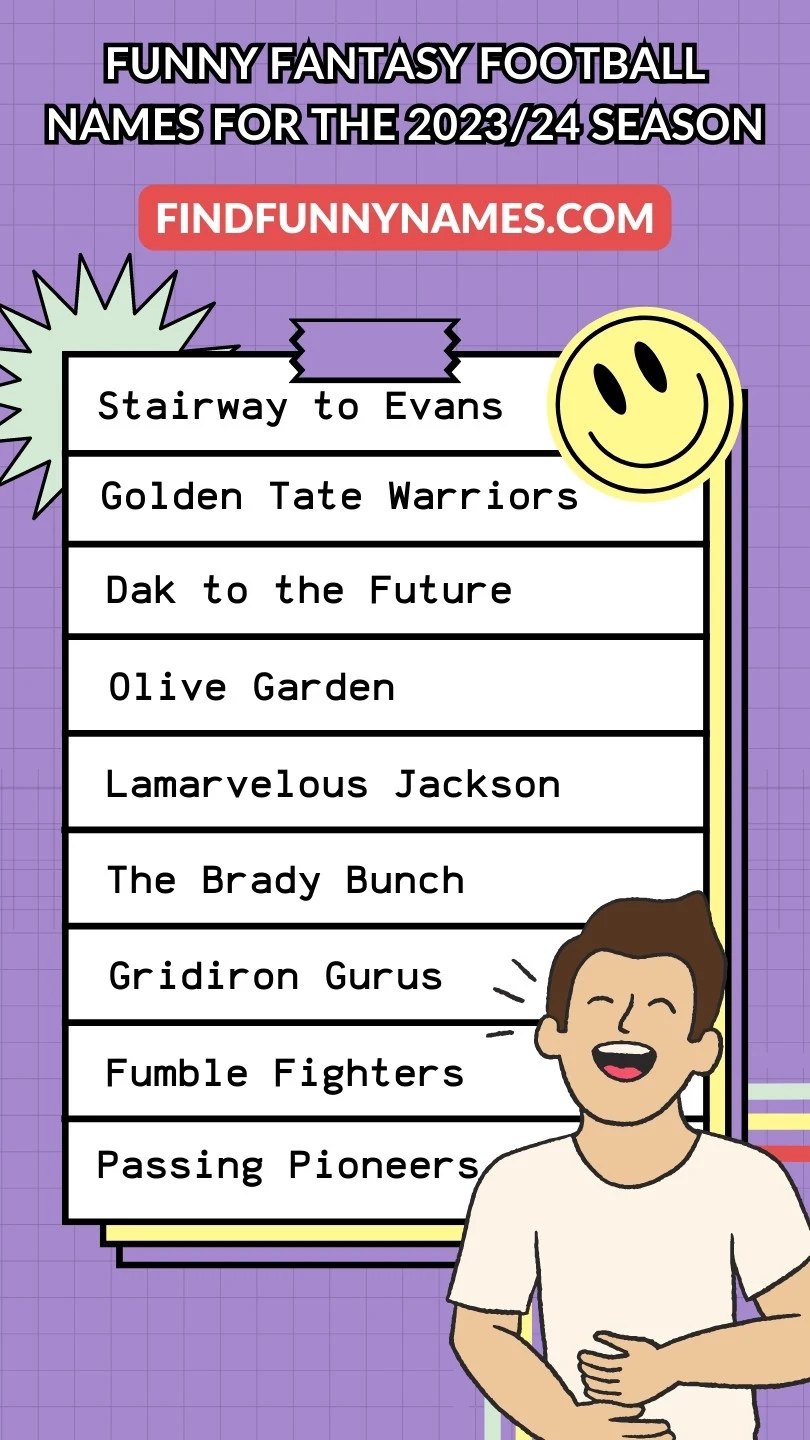 Here's a list of 50 unique and humorous fantasy football team names for the upcoming 2023/24 season.
Each name is designed to bring a smile to your face and add a dash of fun to your league:
1. Gridiron Gurus
2. Hail Mary Heroes
3. Endzone Enthusiasts
4. Field Goal Fanatics
5. Touchdown Titans
6. Fumble Fighters
7. Interception Insiders
8. Pigskin Prophets
9. Blitzkrieg Ballers
10. Rushing Renegades
11. Passing Pioneers
12. Yardage Yodas
13. Sack Savants
14. Tackle Technicians
15. Playbook Professors
16. Draft Day Daredevils
17. Scrimmage Scholars
18. Overtime Overlords
19. Kickoff Kings
20. Punt Pundits
21. Down & Distance Dons
22. Red Zone Rangers
23. Sideline Sages
24. Coin Toss Conquerors
25. Two-Minute Drill Dynamos
26. Halftime Hotshots
27. Audible Aces
28. Snap Count Strategists
29. Line of Scrimmage Legends
30. First Down Frontrunners
31. Fourth Quarter Phenoms
32. Bye Week Wizards
33. Injury Report Insiders
34. Trade Talk Titans
35. Waiver Wire Warriors
36. Roster Revamp Rebels
37. Depth Chart Champions
38. Salary Cap Scholars
39. Free Agent Fanatics
40. Retired Number Renegades
41. Hall of Fame Hotshots
42. Pro Bowl Pundits
43. Super Bowl Savants
44. MVP Mentors
45. Rookie of the Year Rebels
46. All-Pro Aces
47. Franchise Tag Fanatics
48. Contract Year Conquerors
49. Offseason Overlords
50. Preseason Prophets
Player-Themed Funny Fantasy Football Names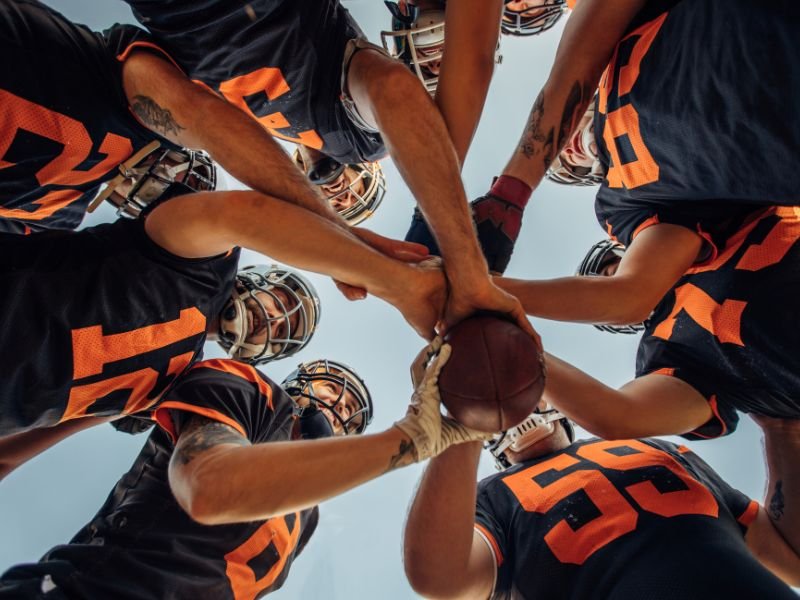 If you're a fan of puns and player-themed team names, you're in for a treat. Here's a list of 50 unique, humorous, and player-themed fantasy football team names for your enjoyment:
1. Mahomes Alone
2. Baker's Dozen
3. Gurley Gone Wild
4. Forgetting Brandon Marshall
5. Dalvin and the Chipmunks
6. Lamar the Merrier
7. Russell Sprouts
8. Kamara Shy
9. Hyde and Zeke
10. Kittle Corn
11. The Mixon Administration
12. Gronk If You're Horny
13. Dakstreet Boys
14. Diggs in a Blanket
15. Fournetteflix and Chill
16. Le'Veon a Prayer
17. Thielen Good
18. JuJu on that Beat
19. Kupp of Joe
20. Wentz Upon a Time
21. Breesy Like Sunday Morning
22. Goff Balls
23. Murray Up and Wait
24. Chubb Hub
25. Lock and Load
26. Carr Insurance
27. Hunt for Red October
28. Watson Your Mind?
29. Stafford Infection
30. TanneThrill
31. Carr Crash
32. Bridgewater Under Troubled Water
33. Newton's Law
34. Golladay Inn Express
35. Hilton Hotels
36. Ertz So Good
37. Kelce Grammar
38. Waller Waller Chicken Dinner
39. Cooking with Dalvin
40. Henry the Eighth
41. Ekeler's Island
42. Chark Attack
43. Gaskin for Trouble
44. Fuller House
45. Swift Justice
46. Jacobs Ladder
47. Jonesing for a Win
48. Ruggs Burn
49. Pitts Stop
50. Chase the Dream
50 Music-Based Funny Fantasy Team Names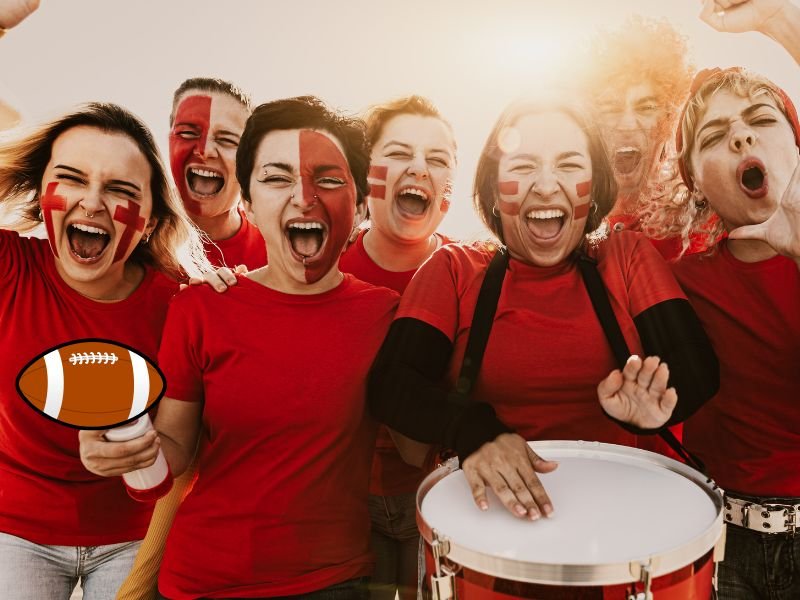 For those who love music and want to incorporate that passion into their fantasy football team name, here are 50 music-based funny fantasy team names:
1. Blitzkrieg Bop
2. Backfield in Black
3. Purple Haze Passers
4. Yellow Submarine Screen Pass
5. Sweet Child O' Line
6. Born to Run (the Ball)
7. Hotel California Eagles
8. Stairway to Seven (Points)
9. Good Vibrations Goalposts
10. Paint It Black and Gold
11. Blitz Me Baby One More Time
12. I Will Always Love Drew (Brees)
13. (Tom) Brady Gaga
14. Enter Sandman Safeties
15. Bohemian Rhapsody Blitz
16. Like a Rolling (Vince) Lombardi
17. Hey Jude (Davion Clowney)
18. Another Brick in the (Offensive) Wall
19. Smells Like Team Spirit
20. (Patrick) Mahomes Rhapsody
21. Penny Lane Playbook
22. (Saquon) Barkley's Submarine
23. Comfortably Numb Quarterbacks
24. Sweet Home Alabama Slammers
25. Highway to End Zone
26. Free Bird Free Agents
27. American Pie Audibles
28. Rocket Man Receivers
29. Hotel California Cornerbacks
30. Purple Rain Playmakers
31. Sgt. Pepper's Lonely Hearts Club Band On Defense
32. Imagine All The Touchdowns
33. Strawberry Fields Forever First Downs
34. (Don't Fear) The Receiver
35. Born to Run Backs
36. Running Down a Dream Team
37. Blitzin' in the Wind
38. A Hard Day's Night Defense
39. Light My Fire Linebackers
40. Riders on the Storm Runners
41. (I Can't Get No) Pass Interference
42. Sweet Emotion End Zone
43. Crazy Train Cornerbacks
44. Jumpin' Jack Flash Jump Balls
45. Whole Lotta Love for the Line
46. Touchdown in the Sky with Diamonds
47. Blitz You Were Here
48. Sympathy for the Defense
49. Every Breath You Take (on the field)
50. (I Can't Get No) Sack-isfaction
Tips and Tricks for Creating Your Own Funny Fantasy Football Names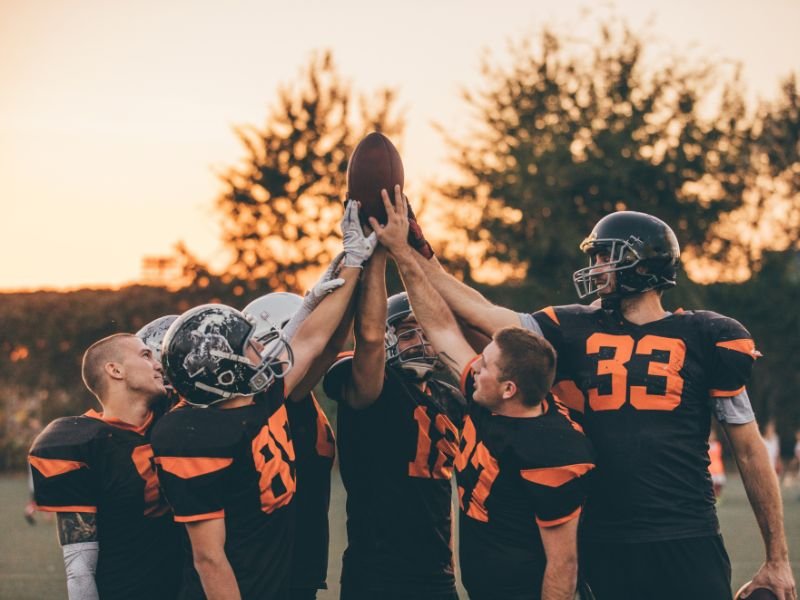 Creating a unique and funny fantasy football name can be a fun task, but it can also be challenging. Here are some tips and tricks to help you create a name that will stand out and make your league-mates laugh.
Using Humor Effectively in Your Team Name
Humor is a great way to make your team name memorable. Puns, wordplay, and clever references can all add a touch of humor to your team name. However, it's important to remember that humor is subjective. What one person finds funny, another might not. 
So, when using humor in your team name, try to choose something that will be universally funny to your league-mates. Avoid inside jokes that only a few people will understand and steer clear of humor that could be offensive.
How to Incorporate Player Names into Your Team Name
Incorporating player names into your team name can be a great way to show your support for your favorite players. However, it's important to be creative and avoid overused puns or phrases. 
Try to think of unique ways to use player names, such as incorporating them into a popular song title or movie quote. For example, instead of simply adding a player's name to the end of your team name, try to incorporate it into the name in a way that is clever and unexpected.
Leveraging Pop Culture for a Unique Team Name
Pop culture references can make for great team names. Movies, TV shows, music, and memes can all provide inspiration for a unique and funny team name. When using pop culture references, try to choose something that is widely known and relevant. 
This will increase the chances that your league-mates will understand and appreciate the reference. However, be careful not to choose a reference that is too obscure or outdated, as this could confuse or alienate some of your league-mates.