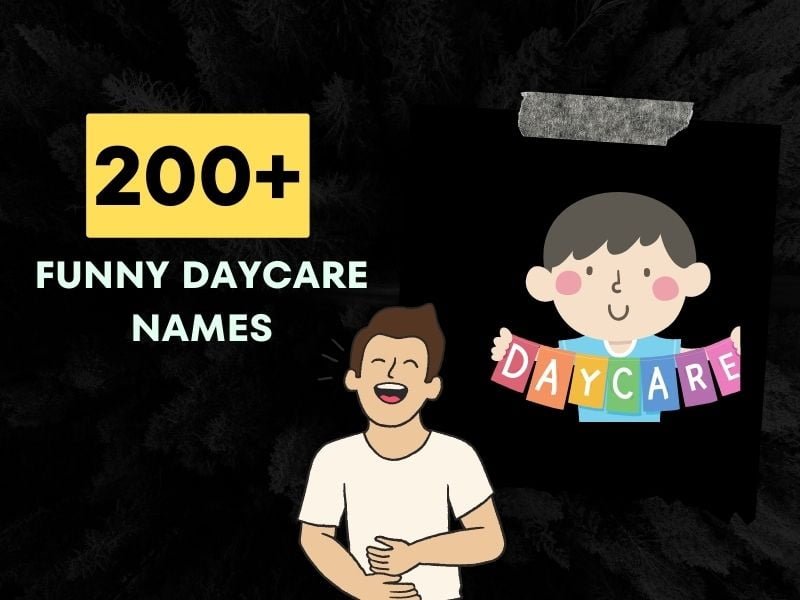 Are you tired of the same old boring daycare names? Want to give your daycare a name that will make both kids and parents giggle with glee?
Well, buckle up, buttercup, because we've got a list of the funniest, quirkiest, and downright adorable daycare names that will make your daycare the talk of the playground.
From "Kidopolis" to "The Garden of Baby Flowers," these names are sure to tickle your funny bone and make your daycare stand out from the crowd. So grab a juice box, put on your thinking cap, and let's dive into the world of funny daycare names.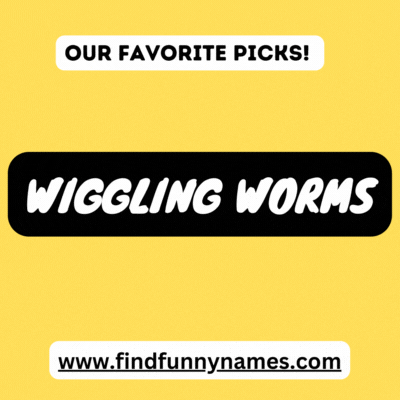 How Can You Create Your Own Funny Daycare Name?
Creating a funny daycare name is not just about slapping together a couple of words that make you chuckle. It's about crafting a name that resonates with parents, engages children, and encapsulates the joyful spirit of your daycare.
So how can you create a name that's both funny and fitting? Let's break it down:
Understand Your Audience: Who Are You Trying to Reach?
Parents or Kids? Think about who will be reading the name. Is it more for the parents or the children? Or both?
Example: If you're targeting tech-savvy parents, how about "Ctrl+Z Daycare" for those parenting "undo" moments?
Brainstorm with Humor: What Makes You Laugh?
Puns and Playfulness: Who doesn't love a good pun? Play around with words related to children, play, and learning.
Example: "Tiny Hoppers" for a daycare with a focus on physical activities.
Consider Your Daycare's Unique Features: What Sets You Apart?
Special Programs or Themes: Do you have a unique program or theme? Incorporate it into the name.
Example: If you have a nature-focused curriculum, what about "The Laughing Leaf"?
Experiment with Alliteration and Rhyme: How Can You Make It Catchy?
Catchy Phrases: Alliteration and rhyme can make a name more memorable.
Example: "Bubbles and Buckets Daycare" – sounds fun, doesn't it?
Test It Out: How Does It Sound to Others?
Ask for Opinions: Sometimes, what's funny to one person might not be to another. Get feedback!
Example: Share your top choices with friends or family and see which one gets the most laughs.
Keep It Appropriate: Is It Suitable for All Ages?
Avoid Confusion: A funny name should still be clear about what you offer.
Example: "Giggles and Wiggles Daycare" is fun but still clearly a place for children.
Think About Longevity: Will It Still Be Funny in Five Years?
Timeless Humor: Avoid trendy jokes that might not age well.
Example: Stick with universal themes of childhood joy, like "Tickle Time Daycare."
Funny Daycare Names (with Meaning)
Looking for a daycare name that's more fun than a barrel of monkeys? Want to make sure your daycare is the place where all the cool kids hang out? Check out these hilarious and meaningful names that will make your daycare the most popular spot on the block.
 1. Kidopolis
Bringing exploration and adventure into a daycare is a great idea. Parents can trust that their little ones will have plenty of opportunities to learn and grow, with plenty of activities and experiences that will make their time at daycare truly enjoyable.
Also, the daycare will be filled with fun and excitement, making it a great place for kids to explore and discover.  
2. The Play Palace
This name is perfect for a daycare that wants to emphasize fun, play, and a royal atmosphere! Parents can trust that their little ones will be taken care of with the utmost respect and care, like kings and queens. Furthermore, the kids will get to enjoy a variety of activities and learning opportunities that will make their time at the daycare even more enjoyable. 
3. Fun Time Nursery
Both kids and parents will enjoy the fun and laughter that is brought into the classroom. Kids will love all the activities they participate in, as well as the care and attention they get from caring, loving staff members. Also, parents will enjoy spending time with their little ones, knowing that they will have a safe and secure environment where they will be treated as royalty.
4. Happy Tots Daycare
The name speaks for itself — this daycare is a happy, fun, and upbeat environment for kids! Kids will love the staff and other kids there, and they will learn a lot while having fun. This environment offers a safe and nurturing environment for kids, so kids can learn, play, and grow without being afraid of anything unsafe or scary.
5. Playground Pirates
Ahoy, me hearties! The Playground Pirates daycare is an ideal place for kids to explore their imaginations and learn about teamwork. Whether they're sailing the seven seas or swashbuckling their way to a good time, little ones at the Playground Pirates can have a blast while developing important skills. 
6. Crafty Critters
From painting and drawing to building and creating, there's something for every young artist at the Crafty Critters daycare. The staff here helps kids explore their creativity in a fun and encouraging environment. It encourages them to think outside the box and let their imaginations run wild. 
7. The Little Gym
Here at the Little Gym, kids can let their creative juices run free by designing their own playground. They can also get up close and personal with the farm animals, and have tons of fun on the climbing structures. The staff at the Little Gym helps kids develop gross motor skills and hand-eye coordination while providing a safe and encouraging environment for growth and development.
8. Lollipop Land
At Lollipop Land, we'll make sure your kids have plenty of sugary treats! From ice cream cones to lollipops, we'll have plenty of delicious snacks for them to enjoy after a long day of playing. Also, don't miss out on the Candy Castle, where kids can decorate their own sweet treats, and then take them home to eat!
9. Toddler Trove
Providing toddlers with an exciting and fun daycare experience is what this name is all about. An activity and toy "treasure trove" for toddlers to explore is sure to make any parent's heart skip a beat.
10. Rockin' Rapids
For kids who like splashing around in the water, head over to Rockin' Rapids! You'll find a splash pad, a wading pool, giant foam slides, and a big foam pit filled with soft water toys. Additionally, kids can cool off with one of our giant inflatable water toys!
Funny Daycare Names Ideas List
Why settle for the ordinary when you can have the extraordinary? These funny daycare names are sure to make parents chuckle and kids jump for joy. From "Toodles and Tumbles" to "Bubble Land," these names are packed with personality and pizzazz.
1. Toodles and Tumbles
2. Wiggling Worms
3. Kiddie Cottage
4. Itsy Bitsy Tots
5. Yippee Kids
6. Playground World
7. Sunshine & Smiles 
8. Cheeky Chimps
9. Kidz Klub
10. Bobble Heads
11. Tater Tots
12. Tiny Toes
13. Little Blessings
14. Peanut Butter and Jellybeans
15. Munchkinland
16. Jitterbugs
17. Twinkle, Twinkle, Little Star
18. Bop to the Top
19. Babyland
20. Pre-K Paradise
21. Puddles and Pals
22. Learning Nest
23. Fun Factory
24. Bubble Land
25. Kids Korner
26. Paradise Pals
27. Baby's Heaven
28. Sugar & Spice
29. Joyful Jumps
30. Kids Kingdom
31. Kiddie Kamp
32. Wee Wonders
33. Lullaby Lane
34. Play and Grow
35. Little Lambs
36. Lollipop Tree
37. The Imagination Station
38. Oh My Stars!
39. Tiny Treasures
40. The Big Ideas Factory
Cool Daycare Names
Cooler than a polar bear's toenails, these daycare names are sure to make your daycare the hippest place in town. From "Sunflower Daycare" which radiates warmth and happiness, to "The Magic School Bus" where learning is an exciting adventure, these names are fresh, modern, and oh-so-cool.
1. Sunflower Daycare
2. The Learning Center
3. Little Scholars Academy
4. Rainbow Preschool
5. Sunbeam Child Care
6. Busy Bees Learning Place
7. Joyful Juniors
8. Early Explorers Day Care
9. Lil' Tykes Daycare
10. Kids R Us
11. Learning Land
12. Bright Beginnings Academy
13. Alphabet Junction
14. Learning Lodge
15. Little Sprouts Daycare
16. Dora the Explorer's Class
17. Growing Minds Academy
18. Happy Kids Daycare
19. Sweet Dreams Daycare
20. Care Bears Daycare
21. Precious Pals Daycare
22. Teddy Bears Daycare
23. ABC Academy
24. Fun Factory Fun
25. The Magic School Bus
26. Playful Minds Academy
27. Discovery Place
28. Adventureland Learning Center
29. Wonder World Daycare
30. Nurturing Nest
31. Kidz Kastle
32. Starlight Academy
33. Bright Ideas Daycare
34. Tiny Town Daycare
35. Kids World Preschool
36. The Cat in the Hat
37.  Toddler Treasures
38. Tiny Tots Learning Center
39. Curious Kids
40. Bright Beginnings
41. Little Lions
42. Laughter and Love Daycare
43. I Want My Mama
44. Happy Hoppers
45. Little Scientists Academy
46. The Learning Tree
47. Brainiacs Daycare
48. First Step Learning Center
49. The Garden of baby flowers
50. Tender Hearts Daycare
Creative Daycare Names
These names are designed to evoke creativity, fun, and a nurturing environment. They are perfect for a daycare that wants to stand out and provide a unique and engaging experience for the children in their care.
Little Explorers Academy
Sunshine Sprouts Daycare
The Giggle Garden
Tiny Trailblazers
Whimsical Wonders
Dreamland Daycare
Playful Paws Child Care
The Learning Lighthouse
Kiddo Cove
Rainbow Rascals
Little Leaders Learning Center
The Imagination Inn
Happy Hearts Daycare
Tumble Town
Creative Cubs Child Care
Little Owls Learning Place
The Adventure Attic
Blossoming Minds
The Curiosity Cabin
Playtime Paradise
Little Dreamers Daycare
The Wonder Workshop
Kiddie Cloud Academy
The Playful Penguin
Little Sparks Child Care
The Enchanted Forest
Tiny Toes Town
The Learning Lagoon
Little Wings Daycare
The Magic Meadow
Busy Beehive Child Care
The Sunshine Station
Little Sprouts Garden
The Playful Porcupine
Creative Caterpillars
The Rainbow Room
Little Stars Academy
The Whimsical Willow
Tiny Turtles Daycare
The Giggle Grove
Little Lions Learning Center
The Butterfly Boutique
Happy Hippo Haven
The Playful Panda
Little Lambs Nursery
The Sunshine Spot
Tiny Treasures Child Care
The Learning Loft
Little Leaves Daycare
The Playful Platypus
Creative Critters Academy
The Rainbow Ranch
Little Legends Learning Place
The Wonder Woods
Happy Hoppers Child Care
The Adventure Ark
Little Larks Learning Center
The Giggle Galaxy
Tiny Travelers Daycare
The Playful Porch
Little Learners Lodge
The Sunshine Shack
Creative Cubs Corner
The Rainbow Reef
Little Lights Academy
The Whimsical Waterfall
Happy Hedgehogs Haven
The Playful Pineapple
Little Lagoons Learning Place
The Giggle Grotto
Tiny Tadpoles Daycare
The Adventure Avenue
Little Legends Learning Lab
The Whimsical Windmill
Happy Hummingbirds Child Care
The Playful Peacock
Little Lilies Learning Center
The Rainbow River
Creative Caterpillars Cove
The Giggle Garden
Little Lanterns Academy
The Sunshine Suite
Tiny Treetops Daycare
The Playful Puffin
Little Larks Learning Lounge
The Whimsical Wave
Happy Honeybees Haven
The Adventure Arch
Little Leaves Learning Lab
The Rainbow Rooftop
Creative Cubs Castle
The Giggle Grove
Little Lights Learning Loft
The Sunshine Spot
Tiny Turtles Town
The Playful Pavilion
Little Legends Learning Lane
The Whimsical Wagon
Happy Hedgehogs Hideaway
The Adventure Alcove