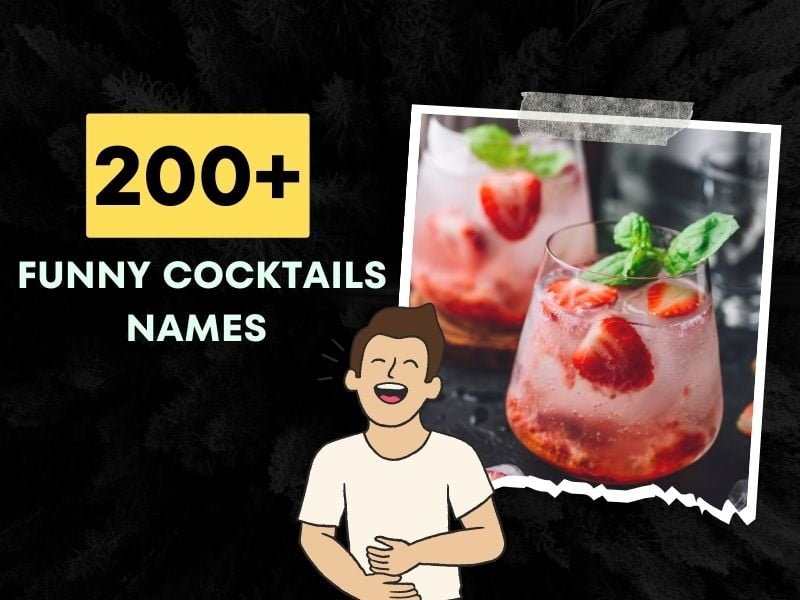 Whether you're a bartender or just someone who loves to make cocktails at home, coming up with creative and catchy names for your drinks is always a fun challenge.
And while many cocktails are named after people or places, some of the most memorable fun ones out there have amusing and even downright silly names. 
A delicious cocktail always has two things: a catchy name and an even better taste. A funny cocktail name can make the drink even more enjoyable. 
If you're looking for some inspiration the next time you're shaking or stirring up a batch of drinks, check out this list of 100 funny cocktail names for your next gathering! I'll also share some of my personal fav drinks recipes and their names with you so let's start!
Funny Cocktails Name Ideas (with Meaning)
From classics like the " margins", or " buzzed monkey " to more original concoctions like the "drunken dragon," you're sure to find the appropriate name for your next libation. Cheers!
Easier said than done. It can be challenging to come up with brand-new ideas, especially when it feels like every single one has been taken. So if you're in need of some cocktail inspiration, check out this list of funny cocktail names.
Everything from classic drinks with amusing names (we're looking at you, Margarita) to more unique creations (like the Drunken Dragon), we've got you covered.
So saunter ahead, get your bartending hat on, and start whipping up something special. Your guests will be sure to raise a glass (and their eyebrows) to these delightful drinks.
1. Pineapple Express 
A fruity and refreshing mix of pineapple juice, cream of coconut, and rum will leave you feeling tropical and relaxed.
2. Bottom's Up 
A tasty mix of orange juice and vodka will put a jolt of pep in your step.
3. Angry Dragon
A dangerous combination of 151-proof rum, amaretto, Southern Comfort, triple sec, and Bacardi dragon berry rum that is sure to set your night on fire.
4. Bullfrog
A mixed drink made with vodka, Midori melon liqueur, Rose's lime juice, and club soda that is suitable for a hot summer day by the pool.
5. Chocolate Cake
A delicious blend of Kahlua coffee liqueur, vodka, chocolate syrup, and milk that tastes just like everyone's favorite dessert. 
6. Cherry Bombshell 
A sweet and sassy mix of cherry vodka and lemon-lime soda that is sure to knock your socks off. 
7. Dirty Mother 
An eye-opening mix of vodka, Kahlua coffee liqueur, Bailey's Irish cream, and Pepsi cola that will wake you up and keep you energized all day long.
8. Fuzzy Navel 
A peachy mix of orange juice and peach schnapps that is appropriate for any occasion.
9. Gangnam Style
A Seoul-searching mix of soju (Korean rice liquor), absinthe, Midori melon liqueur, sweet & sour mix, sprite, and blue curacao that will take your taste buds on a wild ride. 
Funny Cocktail Names And How To Make Them
1. Mind Eraser
In order to make this drink, you will need:
1 part Kahlua
1 part vodka
1 part club soda 
Simply combine Kahlua and vodka in a glass with ice, then finish it by adding the club soda.
2. Afternoon Delight
2 parts gin, 1 part Lillet Blanc, 1 dash orange bitters, Champagne 
How to make it: Combine gin and Lillet Blanc in a shaker filled with ice. Shake well and strain into a chilled champagne flute. Top off with Champagne and a dash of orange bitters. 
3. Cosmopolitan
3 parts vodka, 2 parts triple sec, 1 part cranberry juice, a splash of lime juice 
How to make it: Combine all ingredients (except lime juice) in a shaker filled with ice. Shake well and strain into a chilled martini glass. Garnish with a lime twist or wedge. 
4. Banana Daiquiri
2 oz white rum, 3/4 cup frozen bananas, 3 tbsp fresh lime juice, 2 tbsp sugar
How to make it: Add all ingredients into a blender and blend until smooth. Pour into a chilled glass and enjoy! 
5. The Hangover
1 oz bourbon, 1 oz amaretto, 1 oz orange juice, 1 egg white 
How to make it: Combine all ingredients in a shaker filled with ice. Shake well and strain into a chilled glass.
6. Donkey Kong
To make it, you will need:
1 oz banana liqueur
1 oz coffee liqueur
2 scoops chocolate ice cream
How to make it: Simply combine all ingredients in a blender and blend until smooth. Pour into a chilled glass and enjoy! 
7. Frogger
There are two steps involved in making this drink. As the name implies, the first one will cause you to jump like a frog in the water. You will be sexually aroused and your heart will beat like crazy.
This cocktail is made with 1 ounce of vodka, 1/2 ounce of Midori, 1/2 ounce of Bacardi 151 rum, and a splash of Sprite.
Another way to get kicked by this drink is to mix vodka, gin, and rum. It gets its name from the popular '80s video game where you had to help a frog cross a busy street.
Ingredients:
1 oz vodka
1 oz gin
1 oz rum
Directions: Simply combine all ingredients in a shaker filled with ice. Shake well and strain into a martini glass.
8. The Kiss Of Death
It's called that because it will knock you out.
Ingredients:
1 1/2 ounces Vodka
1/2 ounce Cherry Liquor
1/4 ounce Peach Schnapps
Splash of Sour Mix
Directions: Combine in a shaker, shake vigorously and pour into a martini glass.
9. The Naked Chicken
Another classic cocktail. It was named after the famous Naked chicken dance performed by the band B52.
Funny Drink Names List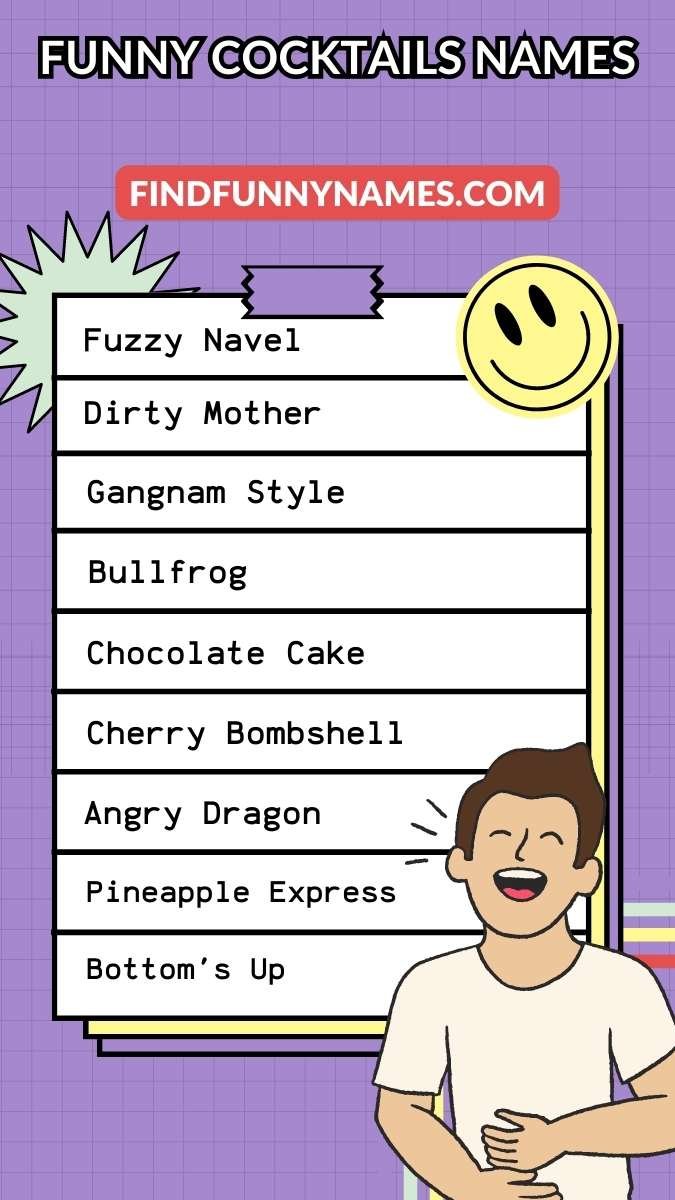 Laughter is the best mixer, and our list of funny drink names is sure to tickle your taste buds and your funny bone. let the good times pour!
Butterbeer Shot
Pumpkin Spice Latte Shot
Cherry Bomb
Irish Car Bomb
Shark Week Punch
Pop Rocks
Shirley Temple
Root Beer Float
(for when it's so strong) Roadkill
(For when it's mostly just alcohol) Rocket Fuel
(For a very sweet drink) Sugar High
(If it's really effective) Game Changer
(If it tastes terrible) Pain Killer
(Served in a teacup) Mad Hatter
Dirty Harry (with an olive)
Bee's Knees (served with a Twizzler instead of a straw)
(For when it gets you drunk) Knockout
(with whipped cream on top) Snowball
(with ice cream) Roy Rogers
(with Mountain Dew instead of cola) Dew Driver
(For when there are so many flavors it's nearly impossible to taste anyone in particular) Exotic Dancer
Rolling Stones (named after your favorite band)
Chocolate Martini
Cinnamon Toast Crunch Shot
The Breakfast Club (themed after your favorite movie)
Rum and Coke
Tequila Sunrise
Singapore Sling
Vodka Cranberry
Gin and Tonic
Moscow Mule
Screwdriver
Pina Colada
Mimosa
Sangria
Greyhound
White Russian
Spritzer
Negroni
Jack and Coke
Ye Olde Fashioned
Manhattan
Tom Collins
Sidecar
Harvey Wallbanger
Bay Breeze
Slow Gin Fizz
Loch Lomond
Monkey Gland
Planters Punch
Black Velvet
Rusty Nail
Golden Mean
ALCOHOLica
Whiskey Sour
Daiquiri
Brandy Alexander
Gin Rickey
Between the Sheets
Champagne Supernova
Martinez
Mai Tai
Rusty Trombone
Tequila Slammer
John Daly
Appletini
Blue Hawaiian
French Connection
Grasshopper
Mint Julep
Mojito Masti
Kamikaze
Moscow Mule
Old Fashioned
Jager Bomb
Boombox
Zombie
James Bond
Marilyn Monroe's Magic
Clever Cocktail Names
Unleash your inner mixologist and impress your guests with not just the taste but also the name of your concoctions. Our list of clever cocktail names is designed to add a dash of wit to your drink menu. From Elixir of Intelligence to Witty Whiskey, these names are as smart as they are delicious.
Elixir of Intelligence
Brainy Bourbon
Scholarly Sip
Genius Juice
Mindful Martini
Cerebral Cosmo
Thoughtful Tequila
Wise Wine
Sage Sangria
Intellectual Iced Tea
Profound Punch
Clever Collins
Astute Aperol
Discerning Daiquiri
Slick Spritzer
Savvy Sidecar
Shrewd Shooter
Judicious Julep
Prudent Pina Colada
Ingenious Irish Coffee
Rational Rum
Witty Whiskey
Sharp Shooter
Bright Bay Breeze
Keen Kamikaze
Logical Long Island
Smart Screwdriver
Perspicacious Paloma
Quick-Witted Quencher
Nimble Negroni
Funny Cocktail Names for Birthday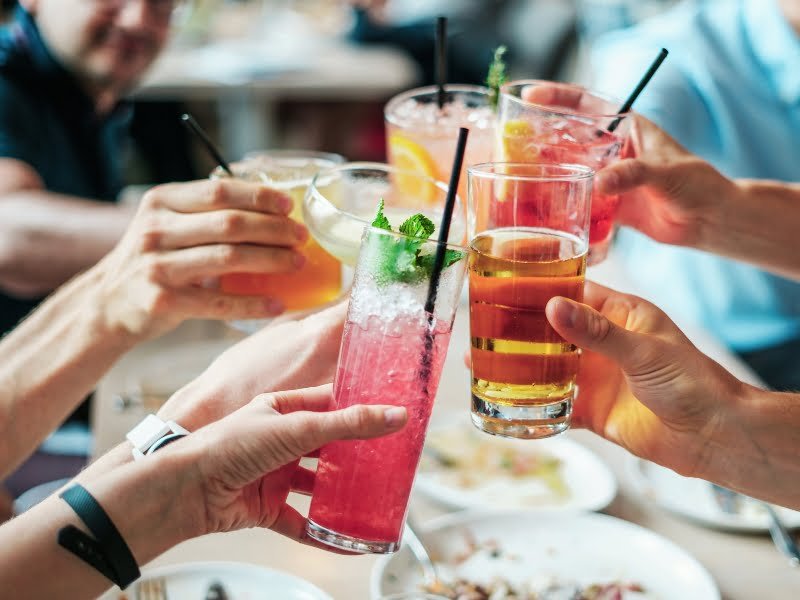 Celebrate another trip around the sun with a splash of humor! These funny cocktail names are perfect for birthday bashes and are sure to get the party laughing. From Aging Gracefully to Over the Hill, let the drinks be as memorable as the day itself.
Aging Gracefully
Over the Hill
Birthday Buzz
Wrinkle Remover
Midlife Crisis Mixer
Youth Elixir
Oldie Goldie
Gray Hair-tini
Senior Spritz
Elderflower Experience
Timeless Tequila
Year Wiser
Botox on the Rocks
Forever Young
Laugh Lines Libation
Vintage Vodka
Milestone Mojito
Another Year Beer
Birthday Cake-tini
Fountain of Booze
Candles and Cocktails
Born Again Bourbon
Cheers to Years
Decade Daiquiri
Party Animal Punch
Confetti Cosmo
Balloon Blast
No Regrets Negroni
Growing Old Fashioned
Life of the Party
Funny Names for Christmas Cocktails
Deck the halls and fill the glasses! Add a touch of holiday humor to your Christmas gathering with these funny Christmas cocktail names. From Santa's Sleigher to Mistletoe Mischief, these drinks are sure to jingle your bells.
Santa's Sleigher
Mistletoe Mischief
Yule Fuel
Frosty's Meltdown
Rudolph's Red Nose
Jingle Juice
Naughty Nog
Tipsy Tinsel
Snowman's Sorrow
Blitzen's Buzz
Christmas Cheermeister
Grinch Grog
Elf Elixir
North Pole Punch
Sleigh My Name
Winter Warmer
Candy Cane Chaos
Silent Nightcap
Gingerbread Gulp
Stocking Stuffer
Caroler's Courage
Kris Kringle Kocktail
Holiday Hooch
Wise Men Whiskey
Festive Fizz
Star of Bethlehem Brew
Christmas Spirit
Noel Nectar
Tidings Tequila
Sugarplum Sipper
Creative Drink Names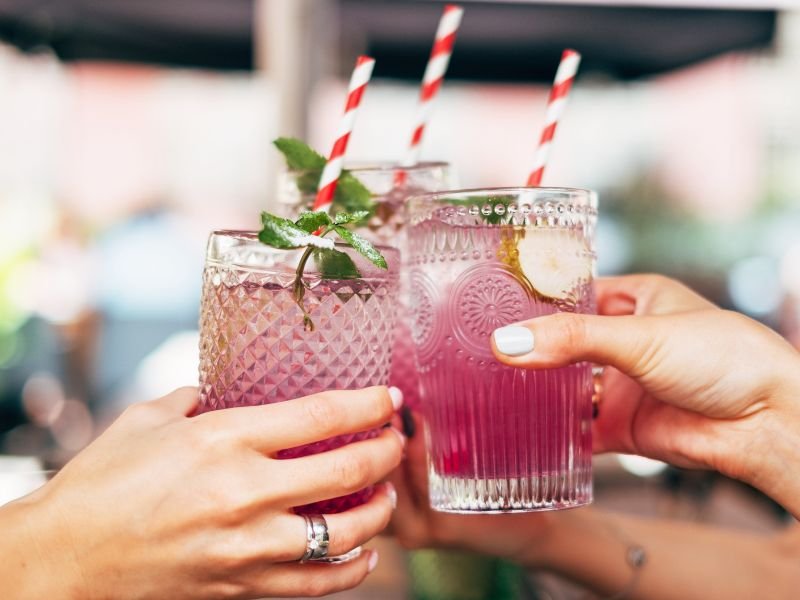 Let your creativity flow one sip at a time.
Starry Night
Moonlit Mojito
Cosmic Cosmo
Galactic Grog
Ethereal Elixir
Dreamy Daiquiri
Enchanted Espresso
Mystical Mule
Whimsical Whiskey
Artistic Aperol
Surreal Spritzer
Visionary Vodka
Fantasy Fizz
Illusionary Iced Tea
Imaginative IPA
Abstract Absinthe
Creative Collins
Poetic Punch
Majestic Martini
Radiant Rum
Lyrical Lager
Daring Drambuie
Ingenious Ice Wine
Quirky Quencher
Novel Negroni
Unique Utopia
Inspired Irish Coffee
Original Old Fashioned
Pioneering Paloma
Trendsetting Tequila
Conclusion
No matter what your preference may be, there's definitely a funny cocktail out there with your name on it (literally).
So go ahead and try one (or two, or three) of these hilariously named drinks the next time you're looking to add some fun to your happy hour repertoire. Your guests (and Instagram followers) will be sure to appreciate it!
If you're in the mood for a laugh (and a strong drink) and trying to come up with a clever name for your latest cocktail creation? look no further than this list of 100 funny cocktails names.
We hope you found something on this list that tickled your fancy. So grab some friends (or drink alone, we won't judge!) and mix up one of these delicious concoctions tonight. Salud!
Thanks for reading!