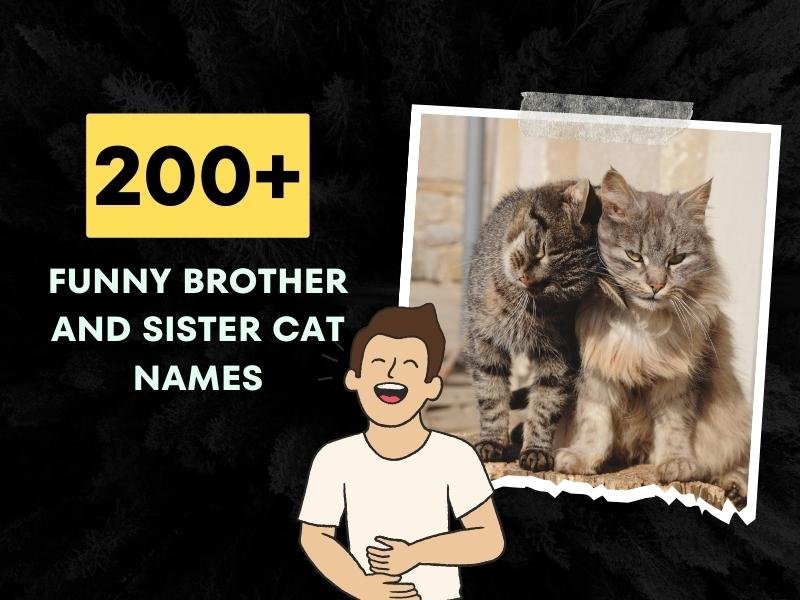 Stuck naming your new feline siblings? The pressure to capture their personalities in just a few syllables is real. Who thought that this could be as stressful as a high-stakes game show? 
Can names truly express their whimsical antics or that sneaky skill of vanishing at vet time? Looking for something more original, like names that evoke your favorite dynamic duo from TV or books? Feel the thrill of endless possibilities.
Let's explore how to pick amusing and memorable names that resonate every time you call for them. After all, isn't that the essence of pet ownership?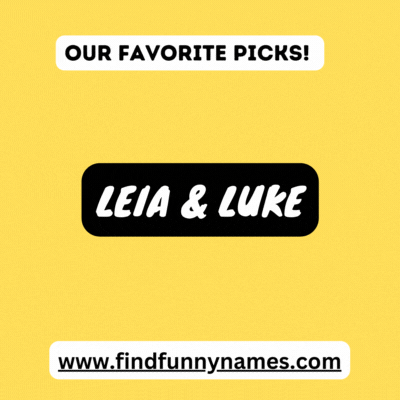 How to Choose the Perfect Names for Your Brother and Sister Cats
Start with Personality
Ever noticed how some cats are graceful ninjas, while others are just cuddly furballs? Consider naming your ninja cat something sleek like "Shadow" or "Ninja." After all, what's in a name if not a reflection of personality?
Consider Physical Traits
Is your feline duo fluffy or lean? One of them might even be the biggest cat you've ever seen! Big cats often bear majestic or commanding names like "Titan" or "Kong," so feel free to go grandiose.
Test the Names Out Loud
You're going to be calling these names often, maybe even in the middle of the night when a wet cat decides to jump on your bed. Sound matters. Say the names aloud and see if they're a comfortable fit for everyday use.
Think of Long-term Appeal
Will you still love calling your cat "Kitten" when she's 10 years old? Opt for names that will stand the test of time. And what's the advantage for cats here? Consistency. Cats learn to respond to their names faster when the names are short and consistently used.
Get Creative but Keep It Simple
Yes, creativity is great. How about borrowing names from your favorite movies or books? But remember, simple is often better. You don't want to turn into a tongue-tied cat lady every time you try to call them.
Think About Compatibility
This pair will be spending a lot of time together, so it's worth choosing names that have a harmonious ring to them. Maybe something rhyming or thematic? Who wouldn't smile at the duo named "Peach" and "Cream"?
Incorporate Your Interests
If you're a foodie, names like "Basil" and "Olive" may delight you. If you're into movies, how about "Luke" and "Leia"? Have fun with it!
Reward with Treats
Once you've picked the names, use cat treats to help them learn. Every time they respond to their new name, reward them. It reinforces positive behavior.
Funny Brother And Sister Cat Names (with Meaning)
1. Mewbacca & Cat Solo
A hilarious nod to Star Wars characters, perfect if your cats have an adventurous spirit.
2. Beans & Toot
Ideal for cats with quirky personalities, these names add a playful twist to mealtime conversations.
3. Tuna & Sushi
If your cats love seafood as much as you do, why not name them after your favorite dishes?
4. Snickers & Giggles
For the playful feline pair who make you laugh out loud, even on your worst days.
5. Purrlock & Meowson
If your cats are particularly clever or curious, why not name them after the famous detective duo?
6. Catrick Swayze & Clawdrey Hepburn
Perfect for feline siblings who have a flair for the dramatic or love to put on a show.
7. Romeow & Mewliet
For the inseparable pair who love each other just as much as they love causing mischief.
8. Fuzz Lightyear & Kitty Skywalker
These names would suit the adventurous pair who are always exploring new frontiers—be it your kitchen cabinets or outer space.
9. Bing Clawsby & Purrtha Franklin
Ideal for a musical brother and sister, these names pay homage to classic singers while adding a feline twist.
10. Chewy & Spock
For those who love both Star Wars and Star Trek, this intergalactic duo is an instant conversation starter.
Cool Brother And Sister Cat Names Ideas List!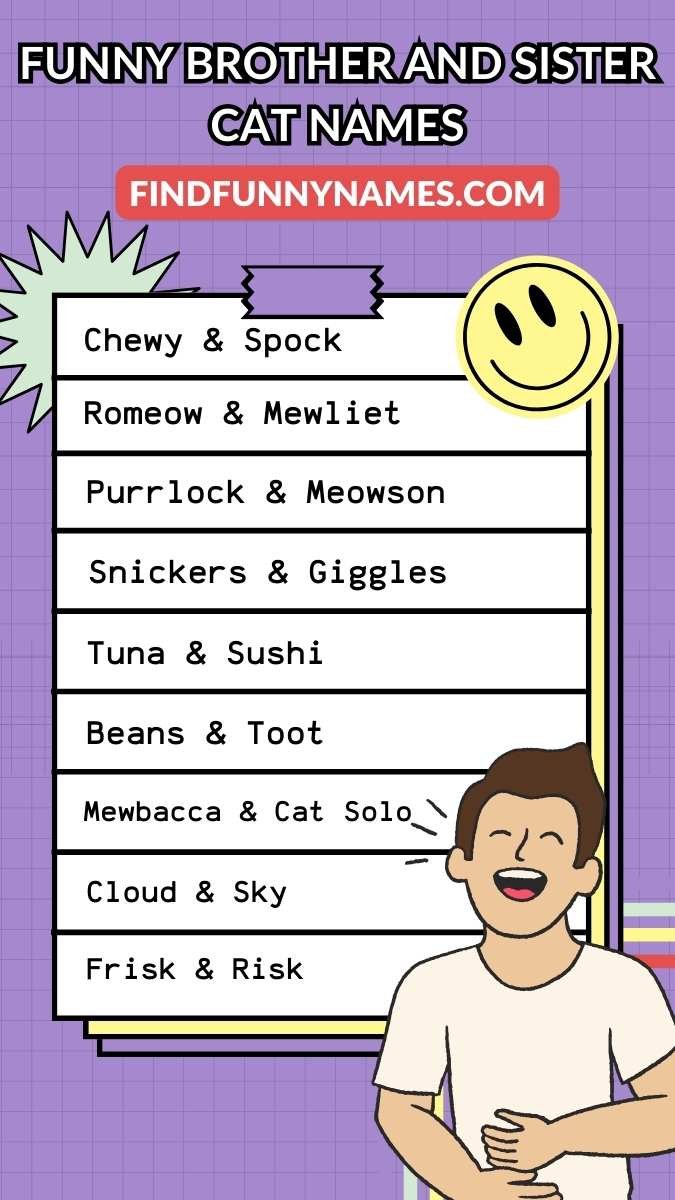 You've got the coolest cats in town, now all you need are the names to match. Looking for something that's as hip and unique as your new pets? Your search is over. Let's dig into names that will make your feline duo the talk of the cat community.
Maverick & Goose
Neo & Trinity
Bowie & Jagger
Leia & Luke
Harley & Quinn
Blaze & Ember
Thor & Loki
Ninja & Samurai
Rambo & Xena
Jazz & Blues
Oakley & Dakota
Vortex & Quasar
Orion & Lyra
Storm & Thunder
Zion & Everest
Zenith & Nadir
Rebel & Rogue
Apollo & Athena
Zeus & Hera
Rocky & Apollo
Nova & Nebula
Talon & Falcon
Skye & Star
Axel & Jett
Rio & Havana
Drift & Shift
Flint & Steel
Frost & Snow
Wren & Raven
Hunter & Archer
Cat Names For Brother And Sister
Struggling to find the perfect names that highlight the special bond between your brother and sister cats?
Whether they're as inseparable as Yin and Yang or as complementary as Salt and Pepper, we've got a list that honors that unique relationship.
Bonnie & Clyde
Peanut & Jelly
Salt & Pepper
Hugs & Kisses
Ebony & Ivory
Coffee & Cream
Sun & Moon
Peach & Plum
Tango & Salsa
Breeze & Zephyr
Cloud & Sky
Lark & Wren
Romeo & Juliet
Earl & Grey
Tango & Cash
Posh & Becks
Laurel & Hardy
Lucy & Desi
Scarlet & Rhett
Will & Grace
Tom & Jerry
Bert & Ernie
Lilo & Stitch
Holmes & Watson
Fred & Wilma
SpongeBob & Patrick
Calvin & Hobbes
Chip & Dale
Tigger & Roo
Lady & Tramp
Good Brother And Sister Cat Names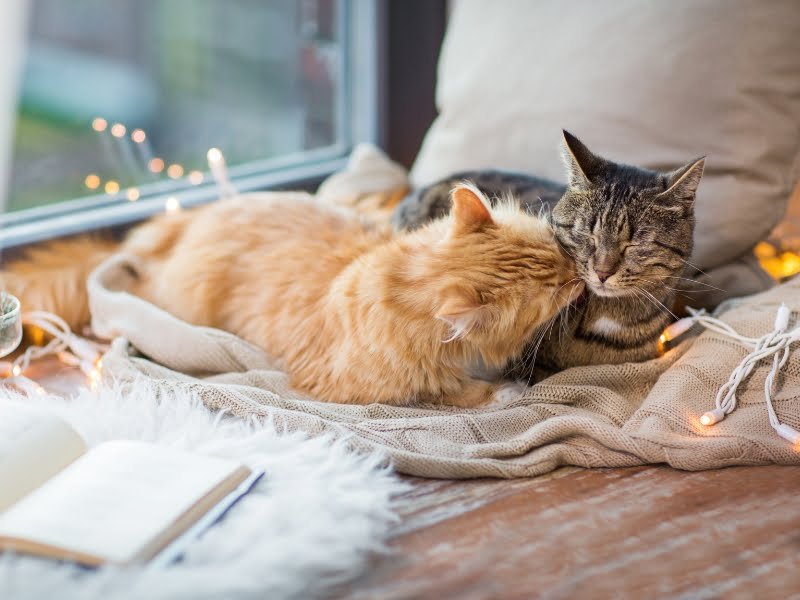 You want names that are good, but not just good—names that are unforgettable. Are you aiming to find names that reflect both their adorable quirks and endearing qualities? Let's venture into names that will live up to your cats' magnificent charm.
Simba & Nala
Fred & Ginger
Paws & Whiskers
Laurel & Hardy
Pinky & Brain
Scout & Atticus
Buzz & Woody
Cleo & Caesar
Rose & Jack
Odie & Garfield
Thelma & Louise
Tulip & Daffodil
Willow & Oak
Dew & Mist
Flora & Fauna
Bubble & Squeak
Coco & Chanel
Ben & Jerry
Adam & Eve
Mork & Mindy
Joy & Bliss
Dream & Wish
Lucky & Charm
Tinker & Bell
Muffin & Cupcake
King & Queen
Bambi & Thumper
Dora & Diego
Betty & Veronica
Winnie & Pooh
Funny Cat Names For Siblings
Looking to sprinkle some humor into your daily life? What better way than to give your sibling cats names that make everyone chuckle? Get ready for a ride on the laughter train with these rib-tickling names.
Mewbacca & Cat Solo
Furrball & Clawdia
Tuna & Sushi
Snickers & Giggles
Beans & Toot
Meowzart & Purrethoven
Spork & Foon
Catterine & Clawdia
Pickles & Relish
Fuzz & Buzz
Sneezy & Wheezy
Purrlock & Meowson
Catrick Swayze & Clawdrey Hepburn
Pounce & Bounce
Whisker & Tickle
Scratch & Sniff
Pounce & Prey
Mew & Purr
Byte & Pixel
Grumpy & Happy
Hairy & Scary
Yowl & Howl
Frisk & Risk
Paws & Jaws
Gobble & Nibble
Smudge & Fudge
Sizzle & Drizzle
Loaf & Roll
Yawn & Dawn
Nudge & Judge
Rhyming Names For Twin Cats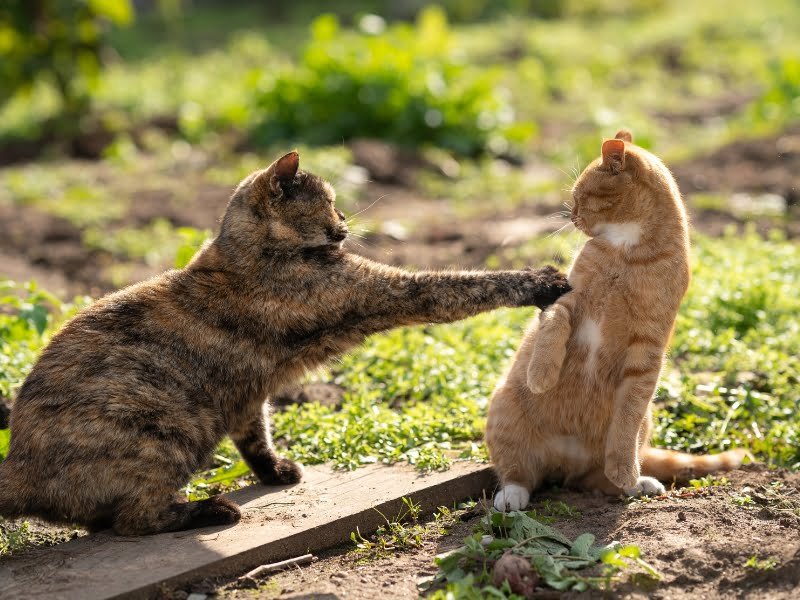 Twins are special, and their names should be too. How about rhyming names that create a poetic harmony every time you call for them? Here's a list that syncs perfectly with the twin vibe.
Moe & Joe
Sunny & Bunny
Chip & Dip
Dot & Spot
Bess & Tess
Belle & Nell
Rick & Mick
Ken & Ben
Min & Pin
Lou & Sue
Jill & Bill
Faith & Wraith
Lou & Stu
Flip & Skip
Dash & Flash
Fred & Ted
Matt & Pat
Hank & Frank
Jem & Gem
Ron & Don
Jill & Dill
Red & Ted
Lin & Bin
Dot & Tot
Ann & Dan
Will & Jill
Max & Pax
Vee & Zee
Ray & Fay
Vic & Rick